Top 4 Exercise Bikes for Your Home to Get Effective Cardio Workouts
Fitgenic is proudly reader-supported, and we may receive compensation through links you click on. See our affiliate disclosure to read more or inquire about partnerships.
Exercise bikes are a staple to any home gym. This complete review provides the best options for stationary, recumbent, and fan bikes.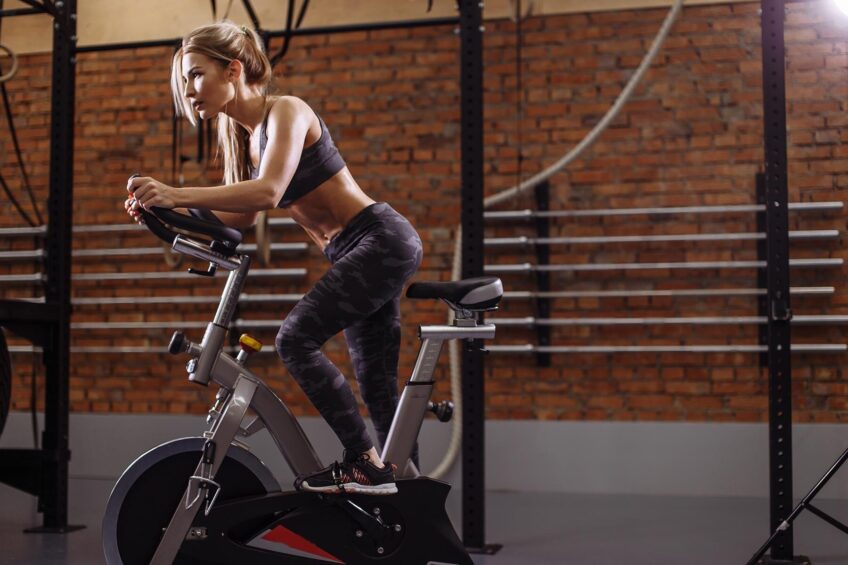 At-home exercise solutions are becoming increasingly popular, with many of us trying to achieve that elusive work-life balance, incorporating exercise and time with family and friends into our already packed schedules.
The concept of the gym at home isn't new, but with the number of affordable equipment options available in recent years, getting fit from the comfort of your own home has become accessible to more people.
When choosing which pieces of equipment to add to your gym, a stationary exercise bike is almost always at the top of the list.
It's become one of the staples of a home gym because it offers a challenging cardio workout that can be adjusted for all fitness levels.
An exercise bike also has the additional benefit of taking up very little floor space, and most models can be moved easily in and out of storage if needed.
Exercise Bike Buying Guide
If you're looking to jump directly to our top picks for exercise bikes, here they are below. All the picks are excellent choices and depend on your needs.
Featured Exercise Bikes in this Review Guide
What is an Exercise Bike?
While most of us are familiar with exercise bikes, it may come as some surprise to learn that there is a close to an unending range of options to choose from, although most bikes fall into the category of either upright or recumbent stationary bikes.
At its most basic, an exercise bike (or stationary bike as they are often called) is a piece of exercise equipment that looks similar to regular bicycles, with a saddle, pedals, and handlebars, but without wheels. You'll often find them at most gyms in a home gym set-up.
Why Should I Buy an Exercise Bike?
A stationary bike is one of the best additions to a home gym as it offers many benefits.
It is easy to use no matter what the weather looks like outside, and it has some incredible health benefits (not to mention the high-tech inbuilt features that come standard with some of the top-of-the-range models).
The top benefits include:
Cardio workout, the importance of incorporating cardio into your workouts can't be overstated. Cardio (aerobic exercise) helps to improve circulation, regulate blood sugar, lower blood pressure, and will help you lose weight faster.
Weight loss, an exercise bike is one of the most efficient ways to burn calories. Riding for 30 minutes at a moderate speed will burn around 300 calories.
Low impact, if you're recovering from an injury or want to take the strain off your joints but still want a cardio workout, riding an exercise bike is ideal. A bike puts less strain on the knees and ankles, as well as the back and hips, compared with walking.
Easy access convenience, whether it's hot or cold outside, riding your stationary bike indoors is always a comfortable option. And, if it works for you, you can even exercise while watching TV or reading a book.
Toning, if you've ever watched the Tour de France, there's one thing that you'll have picked up: cycling is great for toning your legs. An exercise bike works your major leg muscles -- from your glutes to your quads and calves.
Muscle strength, the push and pull motion on the pedals strengthens the quads and the hamstrings.
Improved health, according to the American Heart Association, biking as a form of exercise lowers your risk of heart disease, slows weight gain, improves sleep, cognitive function, and bone health, and reduces anxiety and depression.
Mental health, riding an exercise bike triggers the release of dopamine, which makes us feel good, with one study showing that bike riding was responsible for improving energy levels by 20% and decreasing fatigue by 65%.
Easy to store, stationary exercise bikes typically take up very little room compared to other home gym equipment. Most can be moved around with transportation wheels, so it can easily be put away if you have guests over for dinner.
How to Choose the Best Exercise Bike
Modern exercise bikes are available with all the bells and whistles, from customizable fitness programs to built-in heart rate monitors, cooling fans, and more.
So, how do you choose one that works for you, fits your lifestyle, and doesn't exceed your budget?
To narrow down your options, ask yourself the below questions before you make the final decision:
What is your budget, and are you willing to pay more for features that will improve the effectiveness of your workout?
What space do you have available? Will the bike need to be smaller and able to fold up quickly, or do you have space for a bigger exercise bike that remains set up?
How often, realistically, will you use the bike?
Why are you buying a bike? What do you intend to use it for -- is there a specific health benefit that is your primary goal?
Should the bike be upright or recumbent?
Best Overall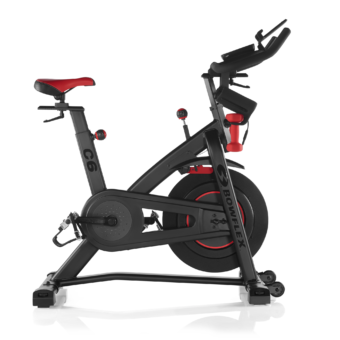 Get a Peloton experience with an industry leader in fitness equipment. Modestly priced, we love this exercise bike.
Pros
Immersive backlit LCD Console
Bluetooth® enabled heart rate armband monitor
Connect with Peloton, Zwift, and JRNY
Dumbbell weight holder
Cons
Seat can take some getting used to
Although the Bowflex C6 does come with a slightly higher price tag, the number of additional features and benefits more than justify the difference -- it's definitely our top pick!
If you're an experienced rider or looking to become one, this bike is for you. It's a gym-quality machine -- you will not be disappointed with its many features.
You get a well-designed bike that's built to last with a backlit LCD metric console, 100 adjustable resistance levels, dual-link pedals (with toe cages), and even a pair of 3 lb dumbbells.
The reliable Bluetooth connectivity sets the bike apart, making it easy to connect with the Peloton, Zwift, and JRNY apps and a heart rate armband monitor.
This popular bike receives consistent 4 and 5-star reviews and is suitable for users up to a maximum weight of 330 lbs. Additional extras include free shipping and an excellent warranty.
Specifications:
Product Dimensions: 48.7" L x 21.2" W x 51.8" H
Product Weight: 106 lbs (Integrated transport rollers included)
Warranty: Frame: 10 years / Mechanical & Electrical: 3 years / Labor: 1 year
Best Recumbent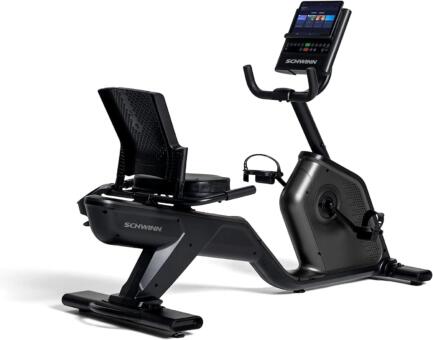 Our top pick for recumbent bikes. If you're looking for cardio in comfort for your seat and joints, this is a great fit.
Pros
Padded + Ventilated Seat
Bluetooth® Speakers
Water Bottle Holder
USB Charging Port
Cons
Flywheel could be heavier
When anyone thinks of bikes in general, Schwinn immediately comes top-of-mind. It's no surprise they made our review list of top exercise bikes.
With a larger, more comfortable seat, recumbent bikes allow you to focus on leg strength while riding in style. And this style of exercise bike can be better on your joints, and recumbent bikes offer many other unique benefits.
The Schwinn 290 is feature-rich, with its 7" LCD display, padded and ventilated seat, Bluetooth® speakers, media shelf, and extensive features.
Explore the world with personalized workout experiences every day of the week with JRNY, or take part in social group rides by connecting to Zwift.
Specifications:
Product Dimensions: 66.4" L × 28" W × 47" H
Product Weight: 107.6 lbs (Integrated transport rollers included)
Warranty: Frame: 10 years / Parts: 2 years / Electronics: 1 year / Labor: 90 days

Best Intermediate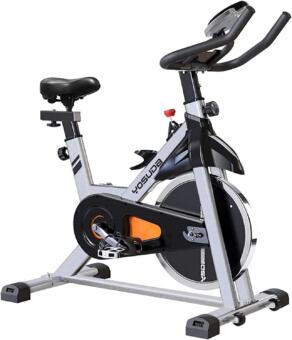 The YOSUDA indoor cycling bicycle is a smooth, durable bike designed to exceed preset limits. The portability is excellent as well.
Pros
LCD monitor and tablet bracket
35 lb flywheel
Portable and easy to move
Getting into shape from the comfort of your own home has never been easier (or more stylish).
The easy-to-assemble YOSUDA stationary bike features a 35lbs flywheel and a heavy-duty steel frame making the bike sturdy even up to a maximum user weight of 270lbs.
It uses a flywheel belt system that's both smooth and quiet, so it's enjoyable to use and won't wake up the kids if you sneak downstairs for an early morning session.
The bike can be entirely customized to your needs with an extensive range of resistance settings, a handlebar that can be adjusted up and down, and a padded seat that can be moved forward, back, and up and down.
This exercise bike also has a few extra features to increase the enjoyment of your workout, including an iPad and water bottle holder, as well as an LCD monitor that shows you time, speed, calories, and distance.
And, when you're done, the transportation wheels make it easy to move the exercise bike -- simply tilt and roll, no heavy lifting needed.
Specifications:
Product Dimensions: 40.2 L x 21.6 B x 46.1 H
Shipping Weight: 69 pounds
Batteries: 2 AAA batteries required
Warranty: 1-year free parts replacement
Best Value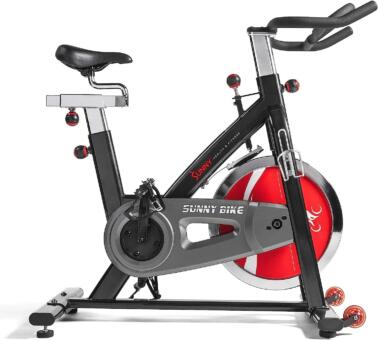 Getting a quality cardio workout experience and a healthy lifestyle should be within reach of anyone who wants it. The many positioning adjustments make it a solid choice as well.
Pros
49 lb flywheel
Transportation wheels
Caged foot pedals
Excellent fittings and adjustments
This popular exercise bike has many thousands of customer ratings and comes with a range of features that make it a stand-out favorite at an affordable price -- it's sturdier than the one above and also has a realistic experience with a heavier flywheel.
In terms of the design, the sturdy 49-lb chrome flywheel consistently maintains momentum as you cycle, offering support for speed training along with all-important stability.
Users have complete control of the resistance, which can be easily increased or brought to a complete and immediate stop using the friction resistance knob, which acts directly on the flywheel. The base levelers mean that you can keep the bike stable on uneven surfaces, so you are always in control.
The bike has adjustable handles and an ergonomic design supporting various riding styles.
The multi-grip handles can be adjusted up and down to match the user's height. This is done in conjunction with the four-way adjustable seat, which means your cycling experience can be tailored to your needs, with a maximum user weight of 275 lbs.
Specifications:
Product Dimensions: 46.5 x 18 x 46 inches
Product Weight: 97.2 pounds
Shipping Weight: 110 pounds
Frequently Asked Questions
Exercise Bikes
If you're new to exercise bikes and cycling in general, several stationary bikes are worth considering. We've covered many of the top options in the review guide, but as a beginner, two things that you want to keep in mind are:
Style of the bike - there are three main types of bikes -- upright, recumbent, and spinning. If you are just getting started, you'll probably want an upright or a recumbent bike, and the best choice will depend on which you find more comfortable. So, before you decide, try out a couple of options at your local sports store and get a feel for what works for you.
Flywheel weight - this is the inner mechanism that controls the movement of the pedals and determines how smooth the pedal movement is. Higher flywheel weights usually offer a smoother ride but are often more expensive.

Yes, of course! Riding a stationary bike is a high-intensity workout that burns body fat because you burn calories and build strength. Compared to other forms of exercise, cycling on a stationary bike is very efficient in burning calories (somewhere between 300 and 700 per hour).

They are if you're prepared to stick to an exercise plan. Regular exercise bike workouts will help you achieve your fitness goals as they are a great way to strengthen your lungs, heart, and many different muscle groups and provide an effective way to burn body fat and calories.
Exercising on a stationary bike also offers the additional benefit of putting less stress on your joints while you work out.
Compared to other forms of exercise, a stationary bike is inexpensive as it's a once-off cost of a couple of hundred dollars with no additional expenses further down the line.
While there are many excellent exercise bikes on the market, there are a few things to keep in mind before making a decision:
Bike Height - if you are taller or shorter than average, you'll need to do a bit more homework as some bikes can easily accommodate you even if you're 6'4, whereas others will have you hunched over the handlebars.
Warranties - the warranties differ depending on the bike and the manufacturer, so make sure you buy a bike with at least a 1-year warranty.
Features - make a list of what's important to you. It might be something as simple as a water bottle holder, but if it's going to make it easier for you to get in the saddle, then it's worth making sure that the bike you choose has what you need.
Conclusion
We hope you find an exercise bike that suits your specific health needs. All the bikes we provided in this review offer an excellent way to enjoy the health and lifestyle benefits of a bike ride from the comfort of your own home.
Your final decision will depend on your personal exercise goals and feature requirements.