5 Best Yoga Mats for Home Use & Hot Yoga Classes
Fitgenic is proudly reader-supported, and we may receive compensation through links you click on. See our affiliate disclosure to read more or inquire about partnerships.
Are you looking for the best yoga mats for your practice? These are the top-rated and best recommendations for home or studio use.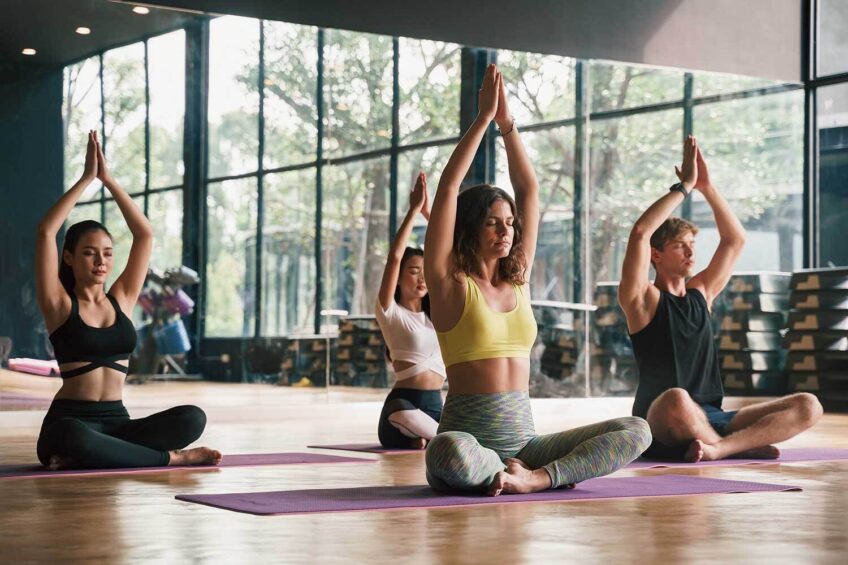 The average American is surrounded by over-stimulation -- we almost always have access to our phones, laptops, and TV.
We have become addicted to this stimulation and rarely give our minds time to rest or think.
Therefore, mindfulness activities are becoming increasingly important. Being mindful allows us to still ourselves and connect to our minds and bodies. This is perhaps why more and more people are taking to their yoga mats in local studio classes or at home.
Yoga is a beautiful mindfulness activity. Many people find meditating difficult at first, but yoga guides us in movement, which allows our minds to focus and relax while at the same time exercising and strengthening our bodies.
Another great thing about yoga is you don't need a lot of equipment, and yet you can exercise every part of your body -- the only thing you need is a yoga mat.
It is essential to practice with a mat, as it's generally more comfortable and gives you a grip when required. A yoga mat also provides a guide for the positions of our hands, feet, and bodies in general.
Furthermore, having a mat that belongs to you rather than just using the ones provided at the gym means you can practice from the comfort of your home or local gym.
It's also a good idea to bring your yoga mat to class, as having one which belongs to you is more hygienic and relaxing. Finding a mat that suits your needs, that you connect with, and have taken time to choose will help you to take your practice to the next level.
In this buying guide, we're going to compare the best yoga mats on the market so you can make an informed decision on which mat is best for you.
Featured Yoga Mats in this Review Guide
How to Choose the Right Yoga Mat
There are lots of yoga mats to choose from, and it can be a little overwhelming to try and figure out which is best for you -- it's essential to get it right.
Having a yoga mat that is most suited to you will ensure that you get the most out of your practice. This will allow you to enjoy it more and see the benefits quicker, which will also keep your motivation up.
We have put together a varied selection for you to choose from. But first of all, how do you know what mat is best suited to your needs?
Here are a few things to consider when choosing a yoga mat:
Thickness - If you have any joint injuries or joints that tend to become sore easily, you may have to consider a thicker mat. This will support you better and give you more cushioning. Standard yoga mats are about 1/8 of an inch thick but go up to 1/4 of an inch.
Length - You may need a longer mat than average if you're tall. A standard mat is 68 inches, which may not be long enough if you're over 5'6" -- in which case, you'll want a 74" yoga mat.
Grip - Depending on your yoga type, you may need more grip than what you tend to get on less expensive mats. If you plan on doing more meditation and seated positions, comfort will be very important. However, if your goal is to do a deeper workout, then grip can be a top priority. Also, if you go to hot yoga classes, then you will need a mat with plenty of grips to help prevent slipping while sweating.
Weight - the weight of your mat may be a consideration for you, depending on where you practice. If you mostly do yoga from home, this probably doesn't matter much. However, if you are always on the go with your mat traveling to classes and local yoga studios, then you may need to ensure that you opt for a lighter mat.
Material - yoga mats come in different materials.
Cost - Cost is always a factor when making a purchase decision, so in this guide, we'll include mats with various costs. You may also need to consider the accessories you will need. Some mats may require you also to buy a case if you plan on carrying it around, while others will not.
Appearance - Again, appearance is always important. You must like your mat so that you can feel connected to it and want to keep it for a long time.
What are the Different Yoga Mat Materials?
PVC
This is the most common as it's a cheap material and is pretty durable as well as waterproof. However, after some time, it will get worn out, and PVC is hard to recycle and made with strong chemicals, some of which are carcinogenic. Therefore, if you are healthy or environmentally conscious, you may want to avoid PVC.
Rubber
Mats made from natural rubber are also very common and relatively cheap. Unlike PVC mats, there are no harmful chemicals, and they are more environmentally friendly. Rubber yoga mats also tend to have a better grip. Many professional Yogis recommend rubber mats.
For some people, the smell of rubber is off-putting -- you may want to avoid a rubber mat, while for others, the smell of PVC is much worse! However, the biggest drawback to a rubber mat is that it is a more substantial material.
Padded Mat
There are padded mats available, which are made of foam and a removable cloth case. This is great if you mostly do seated positions, meditate, and practice yin-yoga. Furthermore, you can usually take the cover off and wash it. However, these mats tend to be slippery and do not provide you with the solid ground needed for more complex positions. If you are working through some injuries and just beginning your practice, then this type of mat may be for you.
Cotton
Cotton mats are also available; this is a great natural material that is friendly to your skin and the environment. Cotton mats are easily washed and very durable. It's a light material which you can easily take around with you. These mats also provide more grip, so if you tend to struggle with slipping hands and feet, cotton may be the way to go! Cotton retains sweat and so requires you to continually wash it -- keep this in mind with this material type.
Non-Slip

Specially designed sticky mats are also available. A non-slip yoga mat can ensure confidence that your mat is not going to move around, which may provide increased courage to try out new poses! These mats come in various forms, and many companies are competing to create the best non-slip mat. However, they tend to be less environmentally friendly than cotton or rubber.
Higher-end mats tend to combine materials to provide the best possible mat, and many of the ones that we will be looking at will do that. However, being aware of the different materials used gives you an understanding of what to look for.
Now that we have given you some things to think about let's dive into our top picks for the best yoga mats.
Best Overall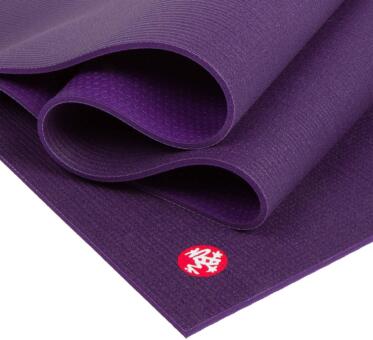 This best-in-class yoga mat is built to last a lifetime. With it's ultra-dense 6MM cushioning, we're sure you will agree.
Pros
Lifetime guarantee
Extremely durable
Great cushioning (6MM)
100% free from rubber
Our first recommendation comes from Manduka. This high-quality 6mm yoga mat comes with joint-protecting high-density cushioning, which offers fantastic support.
The closed-cell surface means that no matter how sweaty you are, your mat will not allow sweat to seep into its material.
You can tell this is a mat designed by yogis. As with all of Manduka's products, this mat is 100% guaranteed to be eco-friendly, and it's made without the use of harmful chemicals.
Manduka has always had a solid reputation in the yoga world. They make a wide variety of mats, and they have proven time and time again they deserve their prestigious reputation.
The grip of the mat is excellent, allowing you to keep steady and well-grounded, even when your hands begin to sweat.
This yoga mat is incredibly comfortable. The high-density cushioning is impressive and should support every yogi, regardless of body type. These mats are built to last a long, long time!
The cleaning and maintenance of this yoga mat is relatively easy. Its closed-cell technology doesn't require the level of cleaning as a rubber mat. All you have to do is wipe it down with a clean damp towel at the end of your practice.
One thing to caution: this yoga mat is slightly heavy, one of the only downsides we can see to this model. The price tag is also reasonably high, but you get what you pay for, and we think the pricing is justified.
Best Eco-Friendly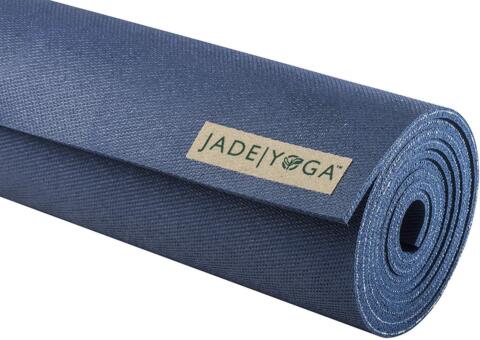 Jade mats are made in the US with natural rubber from rubber trees in Vietnam. Not only are Jade mats non-toxic and excellent, but they are also a sustainable company and plant trees.
Pros
Amazing traction
Reasonable overall weight
Great cushioning (3/16")
Non-toxic natural rubber
Cons
Rubber smell for 1-2 weeks
Requires more frequent cleaning
Jade Yoga is another well-recognized brand in the yoga space, and their flagship mat, the Harmony, is impressive.
This is a mat that provides a ridiculous amount of traction -- it's made using all-natural rubber, which has a higher traction level than any synthetic rubber.
The Harmony is well cushioned, comes in an impressive array of beautiful colors, and is one of the most eco-friendly mats on the market. They have planted over 1 million trees with some of the profits they have made selling the Harmony.
Every mat is American-Made, and Jade prides itself on the guaranteed quality American labor can produce.
Jade feels fantastic from day one and doesn't require any breaking in -- the open-cell construction allows for a slight stretch in the material.
It's a bit harder to clean than the Manduka Pro but weighs slightly less.
The couple of downsides we found with this mat was that it does stay slightly sticky when wet. And the rubber "smell" lasts for a good two weeks after opening. This mat is not suitable for those with a latex allergy, either.
Best Beginner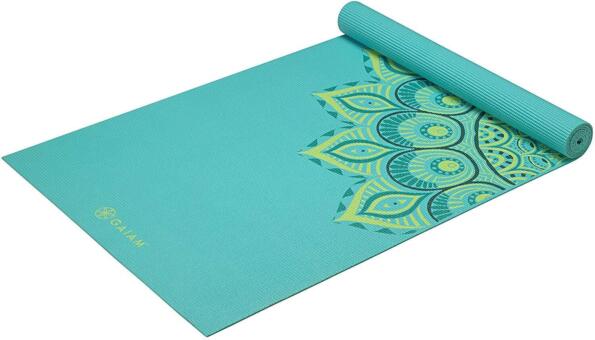 This entry-level yoga mat is lightweight, has many inspiring prints to choose from, and their lifetime guarantee makes it a great choice.
Pros
Amazing cost-value
Good cushioning (6MM)
Many color options
Lifetime guarantee
Cons
Initial order until cleaned
Can be slippery on first use
Our third yoga mat review is a highly recommended option from Gaiam.
Gaiam is a much more affordable brand, as they aim to bring premium yoga mats to their customers at a great entry-level price.
If you are relatively new to yoga or perhaps you don't want to spend over 100 dollars on a mat, then Gaiam is the brand to keep an eye on.
This yoga mat, in particular, offers perhaps the best quality-to-price ratio out of all the mats on our list.
The Gaiam Premium 6mm is a lightweight mat that has excellent durability. It is a bit thicker than most mats, making it a great beginner mat or a mat for people who struggle a little bit with firm floors. The unique texture system this yoga mat provides keeps you gripped to the mat even when you are sweating.
The excellent traction and grip make this our number-one recommended mat for hot yoga.
Another fantastic thing about this mat is that even though it is a fraction of the cost of the more premium offerings on our list, it still boasts an eco-friendly profile.
What you are getting when you buy this mat is a mat that is friendly for your joints, wallet, and the planet.
The biggest downside this mat has is the reasonably strong odor it gives off when you first remove it from the packaging.
There are lots of guides online to counteract this, though. Our suggestion? Make a mixture of tea tree oil, lavender, water, and hazel and spray it onto your mat on both sides. Leave it for 5 minutes, then wipe it down with a warm water cloth, and it should be smell-free by the time it dries.
Best Innovative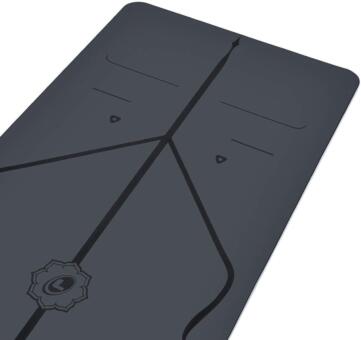 As the "grippiest" Yoga Mat on the market, its unique and patented Alignment System will elevate your yoga sessions.
Pros
Innovating alignment system
Best-in-class for grip
100% eco-friendly
Extra yoga mat space
Cons
Most expensive (worth every penny)
This excellent mat has some unique features you don't usually see in yoga. It uses an intelligently designed alignment system to provide additional guidance during your yoga practice.
Using these alignments allows you to navigate more difficult yoga practices with less thought going into where your limbs should be.
The grip on this mat is also phenomenal, using their "GripForMe" material, giving you an unrivaled warrior grip. This is also the best mat we have reviewed for keeping grip when wet from sweat.
The Lifeforme mat is slightly longer, wider, and thicker than most mats, which gives you more space than a traditional mat.
Paired with excellent stability, cushioning, and weight, this yoga mat really does feel forward-thinking. This mat is making strides in a world where yoga mats generally remain unchanged in their design.
To top everything off, this yoga mat is biodegradable. If you throw it away, it will degrade within 1-5 years, making it another top choice for eco-friendly yoga mats.

Best for Travel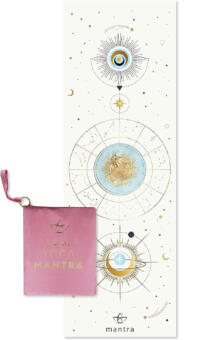 The compact design makes it convenient to take with you on trips. And when you're done, fold it up and tuck it away in the included small bag.
Pros
Ultra-portable and travel friendly
Non-Slip texture
Eco-Friendly rubber
The last yoga mat on our list is our favorite mat for ultra-portability. Although not of the same build quality as our other 4 top yoga mat choices.
If you enjoy traveling, this is a great yoga mat to have in your carry-on luggage.
This thin yoga mat folds up to a great size and will fit in either the most space-restrained suitcase or backpack. It's machine washable, made from moisture-resistant rubber, and is anti-tear and recyclable.
As it is a mat designed around portability, you won't get as high a level of cushion and stability here. But, for a very budget-friendly travel mat, it still scores surprisingly high in these areas.
At 1.5MM thick, it's simply awesome for travel.
Health Benefits of Yoga
Once you have added yoga into your routine, you will begin to experience the benefits. These benefits include increased flexibility and strength.
Yoga also helps to maintain your metabolism, aids weight loss, and tones your muscles, and it helps your cardio and circulatory health while training you to be able to take deeper breaths.
Taking time out to be mindful has been proven to increase motivation and overall happiness.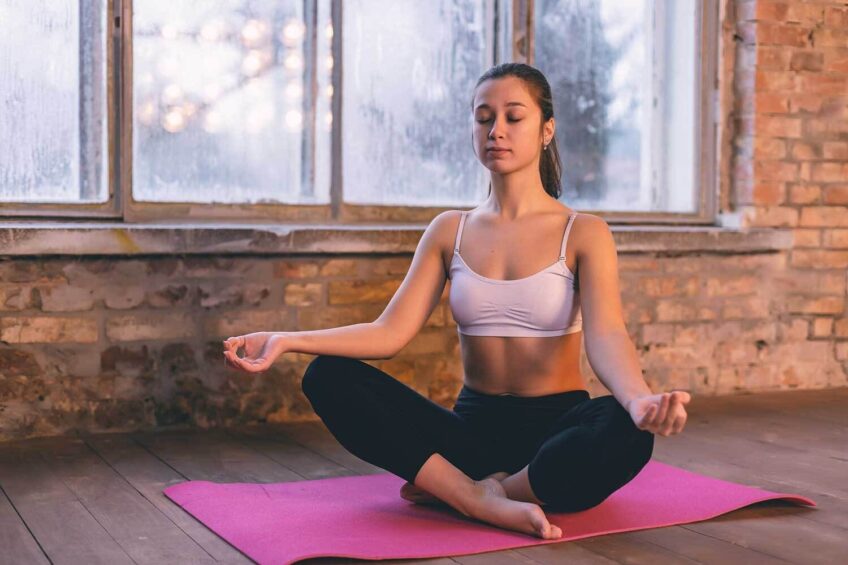 We all know the importance of resting our bodies, but many of us rarely take time to rest our minds. Even during sleep, our minds are working hard to process information.
Therefore, taking the time to breathe deep and focus our thoughts should be as important as resting our bodies, especially in a world full of constant stimulation.
Frequently Asked Questions
Yoga Mat
There are many benefits to having your own yoga mat, especially one with which you have taken the time and care to choose and connect.
One of the main reasons is hygiene. We all sweat in a good yoga practice, and if you use shared ones at the gym, you are coming into contact with other people's sweat. Gross!
Other benefits to having your own yoga mat:
Practice yoga at home with ease and comfort.
Watch YouTube to find "yoga flows" to increase your knowledge.
Save money over a yoga membership.
Fit a practice any time, day or night.
Finally, having your own yoga mat is essential if you believe that objects hold energy. You will only bring your energy to the presentation with each practice and increase your positive energy as you continue to develop your practice.
The best way to make sure your yoga mat has its best chance of a long life is to keep on top of cleaning and maintenance. We suggest that you keep it in a dry, well-aired space when not in use. Regular wipe-downs with warm water will keep it fresh.
If you feel like it needs a slightly deeper clean, mix 1 part vinegar to 20 parts warm water and give it a spray, then wipe it down with a warm water cloth before storing it in a dry airy area.
Sometimes, after the first unrolling of a yoga mat, some residue can be left on the mat from the factory. If you use it right away, you may find that your excellent is slightly slippery due to this residue. When unrolling your mat for the first time, the best thing is to give it a quick wipe-over with the same vinegar-to-water mixture we recommend above in the cleaning process. This will ensure the layer of residue is removed before use, and your mat will be at a full-grip potential.
As with above, when mats have been left rolled up in their packaging ever since they were made in the factory, they can sometimes smell of rubber. The best way to counteract this is to wipe the mat down with warm water. We then suggest making a mixture of tea tree oil and lavender and spraying it over both sides of the mat after the first clean. After drying, this should get rid of the rubber smell and leave your mat with a gentle, soothing fragrance, which will be great for when your face is pressed into the yoga mat.
Conclusion
With over 30,000 choices when it comes to choosing your yoga mat, choosing the one that is right for you can be a tough task.
Even yogis with decades of experience can be stumped when faced with the colossal choice of mats and their different features. Hopefully, our yoga mat buying guide has made selecting your new yoga mat companion easier.
All of the mats we have reviewed here score highly when it comes to quality. We have picked the best of the best out of the thousands of choices available. This means that no matter which one of our recommendations you go with, you are going to get an excellent performing yoga mat.