8 Best Yoga Balls Reviewed for Home Gym & Physical Therapy
Fitgenic is proudly reader-supported, and we may receive compensation through links you click on. See our affiliate disclosure to read more or inquire about partnerships.
From gym studios to physical therapist offices and even classrooms, yoga balls have increasingly become a staple. The best yoga ball options are reviewed below for your consideration.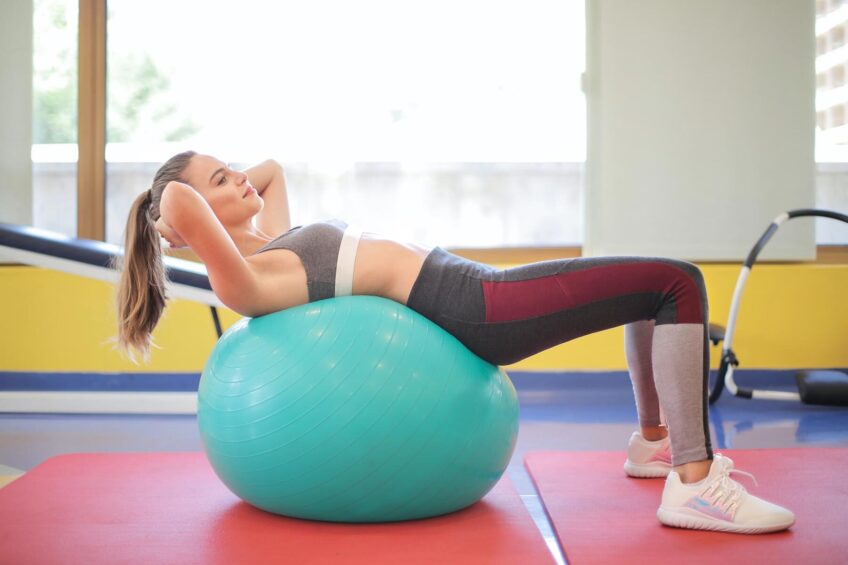 The concept of incorporating a yoga ball into an at-home exercise routine is not a new one. Whether you've used one to isolate and activate your core, perform rehab exercises after an injury, or try your hand at Pilates, there's a good chance that you've come across a yoga ball at one stage or another.
Yoga balls were invented in the early 1960s in Italy for gymnastic exercises and spread throughout Europe. From there, they started being used in rehabilitation in both children and adults and, by 1990, had become an integral piece of equipment for US therapists because of their fitness, neurological, and orthopedic applications.
Today yoga balls are a staple in almost all gyms, physical therapy practices, Pilates and yoga studios, home gyms, and even corporate offices.
Featured Yoga Balls in this Review Guide
What is a Yoga Ball?
A yoga ball is a large, softball filled with air. It's used made from professional-grade rubber that's BPA and heavy metal-free. Yoga ball sizes vary between 14 and 34 inches.
They go by many names such as Swiss Ball, exercise ball, balance ball, birth ball, stability ball, physioball, Pilates ball, Pezzi ball, among many others.
Why Should I Buy a Yoga Ball?
Yoga balls are an affordable and accessible piece of exercise and rehabilitation equipment with many different uses. They've become a staple of most home gyms because there are so many kinds of exercises that they can be used for from just sitting on the ball to complex, structured aerobic exercise routines that build core strength.
Benefits include:
Core strength, most exercises can be adapted and done on a stability ball, making it more challenging and effective. Core strength is at the root of any exercise, from dumbbell presses to bicep curls, as they should be constantly engaged in order to maintain stability and prevent injury.
Flexibility, exercise balls should be used as part of your warm-up to reduce the risk of injury.
Balance, just the simple act of sitting on a yoga ball improves your balance as your stabilizer muscles are activated. Sitting requires the use of your abdominals and back muscles to maintain balance while has a positive effect on your posture.
Back health, if you have back problems, a stability ball can be a helpful asset during an exercise routine as it supports your lower back. This is the primary reason physical therapists and chiropractors will recommend an exercise ball for workouts. You can learn how to find a neutral spine, correct posture, increase lower back mobility, increase control and strength, and lift properly.
Cardio, you can use a yoga ball to get your heart rate up because they can easily be incorporated into several different exercises from planks to wood chops.
Proprioception, your body's awareness as it moves in space improves along with your coordination, posture, and balance, offering you protection against injury as well as improved fitness and performance.
How to Choose the Best Yoga Ball
It's important to do a bit of research before you buy a yoga ball as you want to choose the right ball for your height, as well as factoring in comfort level and quality. Because yoga balls have so many different applications, the size of the ball will make a difference to the efficacy of your workout.
In most cases, you should use a yoga ball that corresponds to your height. Standing next to the ball, it should come up to knee level or slightly above. When you sit on the ball, your knees should form a 90-degree angle, and your thighs should be parallel to the ground.
Finding the right size:
If you're between 5'0" and 5'5", choose a small ball (22")
If you're between 5'6" and 5'11", choose a medium ball (26")
If you're between 6'0" and 6'3", choose a large ball (30")
You might decide to opt for a larger ball if you:
Have a back injury
Are overweight
Have longer legs, relative to your torso
Are using the ball primarily for sitting or stretching
Best Overall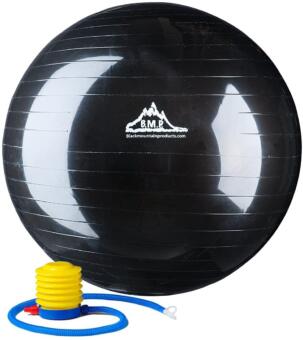 Designed to improve your core strength, balance, and overall agility, Black Mountain Products Stability Exercise Balls bring a gym-quality product to your home at an affordable price.
Pros
Smooth, non-sticky texture
No vinyl/rubber smell
2,000-lb burst rating
Comes with foot pump
Cons
Ball needs time to stretch initially
Make sure to not over-stretch material
The Black Mountain Products Exercise Ball is one of the best on the market, with over 7,000 reviews and an excellent rating. Their yoga balls are available in 5 different colors and five size options: 18 inches (for 5' and under), 22 inches (for 5' to 5'6), 26 inches (for 5'6 to 6'), 30 inches (for 6' to 6'5) and 34 inches (for 6'5 and above).
It's a professional-grade stability ball with a 2,000 lbs static weight rating and 1000 lbs anti-burst rating. The kit includes a foot pump and a started brochure and comes with a manufacturer's warranty.
Best Reviews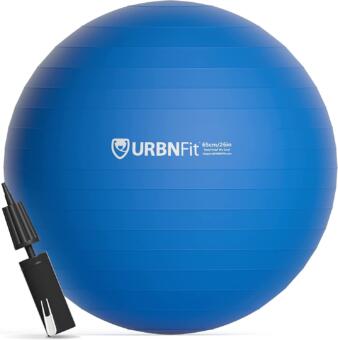 This joint-friendly ball targets multiple muscle groups to increase functional training, lower body workouts, and improve core strength, balance, and posture.
Pros
Hand pump provided
No Smell
Great customer support
Cons
May slowly lose air
Check size when inflated
With over 40,000 reviews at the time of writing, the URBNFit Exercise Ball is another top pick. It's a gym-grade professional exercise ball made from high-quality PVC material with a 2,000 lb anti-burst construction.
Designed to integrate into the home or office environment, the stability ball will make your yoga, pilates, or stretching workout more effective, and the ball comes with a handy dual-action pump, so it's quick and easy to inflate and deflate.
With the URBNFit Exercise Ball, it's simple to get started right away with easy-to-follow instructions, a workout guide, and two air stoppers. The URBNFit brand is a reputable name in exercise equipment, and customer service is always available to assist with any issues, offering full refunds or replacements.
Best Heavy Use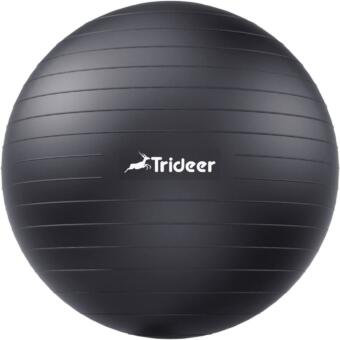 All Trideer yoga balls undergo rigorous limit load tests before leaving the factory. Even being punctured by sharp objects accidentally, the ball would only have a very slow leak instead of popping suddenly to ensure your safe practice every step of the way.
Pros
Resists up to 330 lbs.
Excellent for for heavier users
Non-toxic (free of heavy metals)
Cons
Needed to inflate twice to hold size
Trideer makes among the best yoga balls on the market, offering extra-thick balls (2,000 micrometers) with a weight resistance of up to 330 lbs. Their high-density exercise balls are made from professional quality, non-toxic PVC (free from BPA and heavy metals.) And their durability and versatility can be seen in the reviews, which range from heavy adults to active children.
The balls are ideal for fitness routines from yoga and Pilates to abdominal low-impact exercises. They are also often used as a replacement for an office chair to relieve back pain and improve your posture.
Trideer offers the complete packages: the foot pump is excellent quality (and a better option than the hand pumps that come with some other stability balls), and the ball also comes with two extra air stoppers and inflation instructions. Trideer also offers excellent customer service with 30-day returns, 12 months warranty, and lifetime customer service.
Best Commercial Grade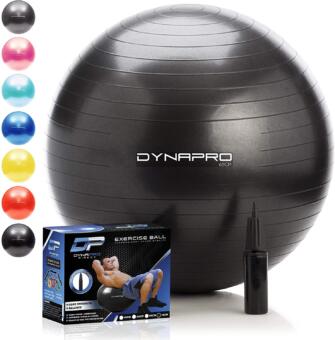 Made of premium and durable materials so that you can make the most of it in the long run. DynaPro is a USA-based team ready to give you the wellness experience and equipment you deserve.
Pros
Thicker material
Perfect for desk chair
Stylish colors
Easy to inflate, includes hand-pump
No harsh smell
Cons
Pump is lower quality
Does not come with instructions
The DYNAPRO exercise ball is another top-performing stability ball at an affordable price. It's available in seven different colors and four sizes, so you can find the perfect ball to add to your at-home workout. They're engineered for heavy commercial gym use, built to withstand thousands of reps every day. And the brand stands behind its performance.
We like the matte finish and neutral color options that make it the perfect fit for use as a desk chair (as well as exercising), and with thousands of 5-star reviews, this ball is a sure bet. The ball comes with a hand pump for easy inflation, so you can start using the ball almost immediately, whether it's for fitness training or as a desk chair.

An added bonus is that DYNAPRO is based in the US with a team of certified personal trainers who are available to help you get the most out of your exercise ball.
Best Price
The BalanceFrom Anti-Burst Slip Resistant Fitness Balls combine anti-slip technology, and with the help of thick and durable material, are rated to 2,000 pounds not to burst.
Pros
Incredibly cost-effective
Includes foot pump
Multi-purpose use
Cons
Inflate to 80% and let sit before inflating to full size
Some report sizing issues
One of the most cost-effective yoga balls available, the BalanceFrom Exercise Ball, punches above its weight both in terms of quality and customer service. Made from thick, durable PVC, the ball is rated up to 2,000 pounds and offers slip-resistant features for your safety.
The easy-to-clean balls come with a foot pump and a 2-year warranty and are available in five size options: 38-45cm (S), 48-55cm (M), 58-65cm (L), 68-75cm (XL), 78-85cm (XXL). Every ball comes with a BalanceFrom satisfaction guarantee, which makes purchasing an exercise ball from them a stress-free experience.
There are a number of uses for the BalanceFrom yoga balls, including exercise (such as Pilates and yoga), sitting (as a chair replacement for both adults and children), and for birthing as the balls support the labor process.
Best Family Use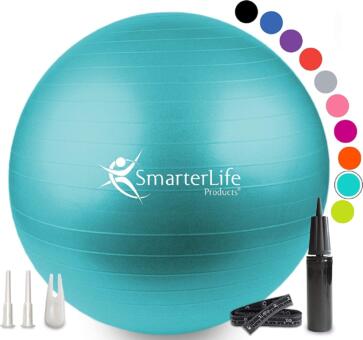 Produced by a married couple out of Colorado, this exercise ball is made from earth-friendly materials and is built to last. The added eBook download makes it great for beginners and the entire family.
Pros
Easy inflation
Anti-slip design
Great for birthing
Helpful customer service
Includes detailed eBook
The SmarterLife yoga ball is one of the most popular on the market, with over 1,700 user reviews. The balls can be used for just about anything from yoga and Pilates to stability, birthing, and physical therapy. Users have even used them for flexible seating in classrooms and as office ball chairs. It has one of the widest ranges of color options available -- ten different choices and comes in four sizes (45cm, 55cm, 65cm, and 75cm).
Top features include a high 2,000 lbs anti-burst rating for maximum safety and an anti-slip matte surface, in addition to an even all-around 0.2 cm thick PVC casing. Each exercise ball comes with a hand pump for easy inflation, a measuring tape so you can inflate the ball to the correct size, extra ball plugs, a ball plug removal tool, and an exclusive fitness and lifestyle ebook guide.
SmarterLife has a different approach from many of its competitors, as it's owned by a husband and wife team that is dedicated to making a difference. This means that they have put extra care into the design and manufacturing of the balls, which contain no BPAs, phthalates, harmful chemicals, or heavy metals. This exercise ball also includes "The 7 Secrets to Your Ideal Body" (eBook).
Best Pro Use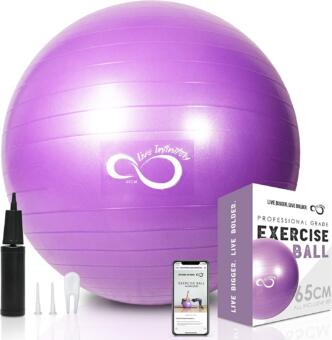 This "all-inclusive" exercise ball includes a hand pump, 2 air plugs, and a valve remover tool. You also get instant access to digital exercise guides and online mobile-friendly training workouts.
Pros
2,200-lb burst rating
Environmentally friendly
No chemical smell
Includes hand pump
Includes eBook exercise guide
Cons
Some have reported egg-shaped balls
The Live Infinitely yoga ball has well over 12,000 reviews, and users can't stop raving about the excellent durability and thickness of the balls, as well as the affordable price point. There are 11 different colors to choose from and five different sizes (55cm – 95cm). They're perfect for improving posture, relieving lower back pain, for use as part of a home exercise routine, as well as for pregnancy, or as a desk chair replacement (as it has lower flex than other balls).
Every Live Infinitely ball is made from responsible materials and comes with a 1-year unlimited warranty, giving you complete peace of mind. The professional-grade PVC manufacturing can support up to 2,200 lbs and is BPA, later, heavy metal, and phthalate-free.
Additional extras include a hand pump, two air plugs, and a plug remover, as well as mobile-friendly online exercise guides and training workouts.
Best Brand Name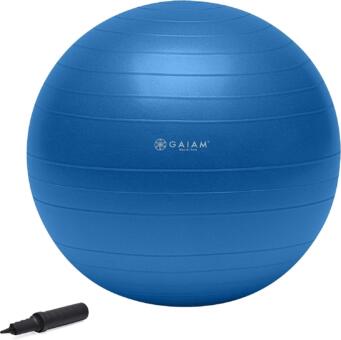 The Total Body Balance Ball Workout was developed with resistance training for maximum results. Leading fitness instructor Tanja Djelevic takes you through a series of Pilates, yoga, and strength moves using the Balance Ball to focus on major muscle groups with the included DVD.
Pros
Reputable brand name
Includes whole-body workouts on DVD or digital download
Includes hand-pump
This highly popular balance ball by Gaiam is a simple, cost-effective solution for home workouts. It comes with a whole balance ball kit that includes a workout guide for abs, glutes, and back as well as a 105-minute workout.
The balls have a weight capacity of 300 lbs and are designed for all skill levels, and are available in one size only (75cm), recommended for users between 6'0 and 6'5, and can be used as part of a home-fitness solution or as an alternative to your office chair. There are two other sizes in the Gaiam range (55cm and 65cm).
This yoga ball is ideal if you are looking for an impact-free workout and, when used in conjunction with the Total Body Balance Ball Workout, will focus on all the major muscle groups while improving core strength and natural balance.
Frequently Asked Questions
About Yoga Balls
Yoga balls can be used in many different ways, not just as part of a yoga routine, and the range of difficulty levels means that you can progress and still continue to get benefits from your ball. They can be used for:
Physical therapy rehabilitation -- particularly for back injuries, can take pressure off the injured area during a therapy session.
Core exercises -- a yoga ball enhances simple gym exercises such as sit-ups and planks by increasing the range of motion and encouraging increased muscle engagement.
Resistance training -- sitting or leaning on a yoga ball while doing resistance exercises increases the resistance making the workout more challenging.
Yoga and Pilates poses -- many instructors will recommend including a yoga ball in a Pilates or yoga routine to enhance the poses and exercises.
Sitting -- the benefits of even just sitting on an exercise ball means that yoga balls have become a popular replacement for an office desk chair and even in the classroom.
Birthing -- sitting upright during labor can encourage the pelvic muscles to open. Yoga balls can also reduce labor pain as well as stress and anxiety.
Children -- sitting on a balance ball (rather than a school chair) can help children with sensory processing disorders, as well as improve balance and posture.
The best option is to inflate the ball to its correct size (rather than inflating it to a specific PSI). This means that if you've purchased a 26-inch ball, you should use the pump that comes with the ball and continue inflating until the ball measures 26 inches in diameter.

There are two things to keep in mind here:
Don't over-inflate the ball, as this will increase the chance of it bursting.
Some brands of yoga balls need to stretch a bit when they're brand new, so if you've just opened the box to start inflating your ball, go easy and inflate to 80%, leave the ball overnight, and inflate the remaining 20% the next day.
The idea of sitting on a yoga ball at work, rather than a standard office chair, has gained traction because of the many benefits that yoga balls offer. But if you're sitting rather than actively exercising with the ball, does it help? Yes, it does! The instability of sitting on an exercise ball means that the user has to activate their core (or trunk) muscles which have the benefits of:
Burning extra calories -- if you sit on an exercise ball, you're making micro-movements and adjustments all the time, and if you're moving, then you're burning calories.
Relieving back pain -- sitting on an exercise ball means that you're constantly being reminded to focus on your posture, which relieves pressure on the spine and muscles in the back.
Toning your core -- a stability ball doesn't have a backrest, so it will help you tone your abs and obliques because you have to engage your core muscles.
Reminding you to stretch -- with a normal office chair, it's easy to go for hours without taking a break, but if you're sitting on a balance ball, you'll probably have to get up every hour or two. And, because you've got your yoga ball with you, you might even be inspired to do a couple of stretches using the ball during your break.
Conclusion
From gym studios to physical therapist offices and even classrooms, yoga balls have increasingly become a staple. They're affordable, incredibly versatile, and can be adapted for beginners through to advanced users. So, if you've been thinking of getting one for your home gym or replacing your office chair, now's the time to make a decision.
All the yoga balls that we reviewed thoroughly deserve to be on our list of top yoga balls as they continue to outstrip the competition, offering innovative home-fitness solutions and receiving rave reviews from thousands of users from around the world.