Top 5 Percussion Massage Guns to Ease Muscle Pain
Fitgenic is proudly reader-supported, and we may receive compensation through links you click on. See our affiliate disclosure to read more or inquire about partnerships.
Whether you're looking to soothe muscles, help with pain, or offset the costs of physical therapy, these are the top percussion massage guns we reviewed.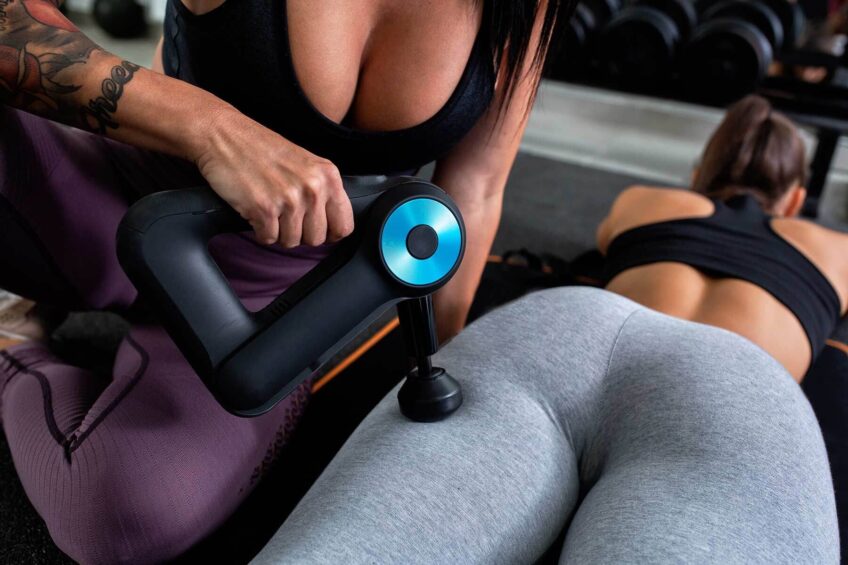 You've been to the gym. Your training session is over. You've pushed yourself to the limit again, and you're feeling tired and sore. You feel the tension in your legs, arms, and lower back.
You need a massage.
But before you book an appointment, it's worth checking out an excellent alternative: the percussion massager.
These small, powerful machines make you feel like you're getting a professional massage, but it's even better. And often a person's hands can't even deep into the tissues in your muscles, but a percussion or deep-tissue massager can.
What is a Percussion Massager?
A percussion massager is a handheld device that you use to apply pressure deep into your muscle tissues. It uses pulses of concentrated pressure, which feel like a deep-tissue massage.
This can help remove knots and tension in the muscles and improve your range of motion as well as your blood flow.
These massage guns are also known to help reduce recovery time, soreness, and pain.
Additional fitness massage gun benefits:
Promotes blood circulation
Relieve swelling and pressure
Increase flexibility
Eliminate fatigue
Percussion Massage Gun Buying Guide
While we'll go into detail on all eight options in this percussion massage gun buying guide, here's a quick list if you're looking to browse options immediately.
Keep reading for all the details on our favorite massage gun models below.
Featured Massage Guns in this Review Guide
Why Own a Massage Gun?
Percussion massagers are ideal for helping ease pains in the shoulder, neck, and back areas and for relaxing especially tense muscles.
These handheld machines are ideal for many people and are especially popular among athletes who want to improve their muscle ability and strength.
Using this device can reduce downtime between training sessions while letting you take a targeted approach to active recovery.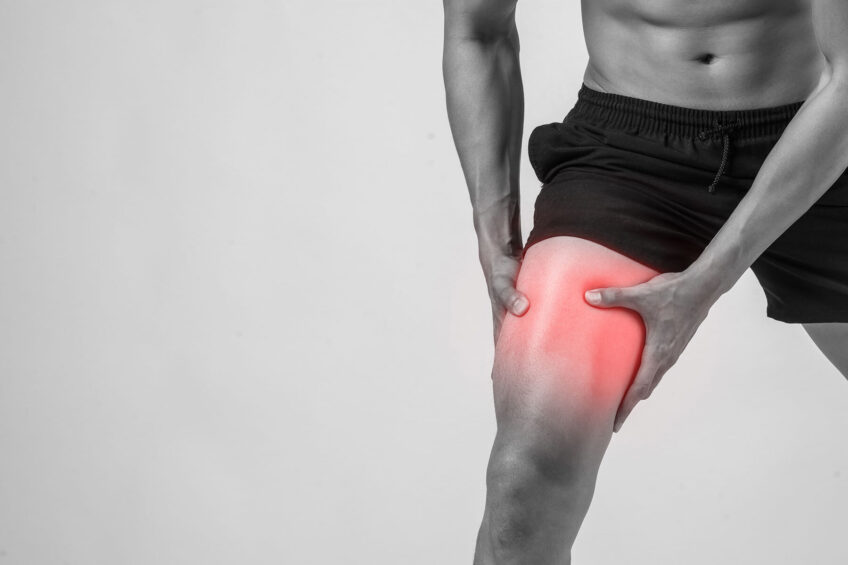 However, athletes and people who work out consistently aren't the only suitable candidates for a massage gun. These are great for anybody with pain and discomfort.
Think you don't need a percussion massager? Think again!
This machine is ideal for all kinds of ailments and issues, including:
Bulging discs
Herniated discs
Fibromyalgia
Torn rotator cuff muscles
Chronic pain
Pain associated with autoimmune diseases
Sciatica
Flexibility issues
Tight hamstrings or quads
Muscle spasms
Sore backs from sitting in front of the computer
So whether you're an athlete looking to speed up your recovery or you want to get the kinks out of your muscles, a percussion massager will get deep down into your aches and pains.
Percussion Massage Gun Benefits
What role does massage play in your recovery? With the right percussion massager, you could recover faster with greater comfort.
Percussion massagers provide deep muscle relief, which supports:
Mobility and flexibility
Pre-workout warmup
Post-recovery workouts
Joint pain relief
And myofascial release
The best part? Massage guns are portable and can be taken anywhere with you, as many come with a carrying case. Take it with you to the gym, your office, a family member's home, anywhere!
What to Look for in a Percussion Massage Gun?
There are several things to keep in mind before you buy a massager. Below are some of the most important characteristics to look for.
Attachments - How many accessories does the machine have? How many muscle groups can you target? If you want to ease pain and tension in a specific part of your body, ensure it has the appropriate attachment.
Cordless - It goes without saying that using a cordless percussion massager is much more comfortable than the alternative, especially if you're usually on the go.
Intensity - Do you prefer a gentle or more intense massage? Just about all of the percussion massagers on the market have a range, but make sure your preference is in that range.
The shape of the handle - Is it long? Is it ergonomic? Will you be able to massage hard-to-reach places using a specific model?
Noise - Some machines operate at a noise level that is just above a whisper; others do the opposite. Is it essential that the machine be quiet? When will you be using it?
There are all important factors to consider before purchasing a percussion massage gun.
Best Overall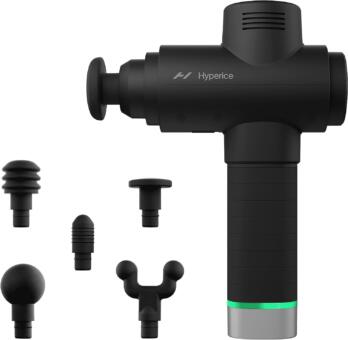 Combining sheer power and one of the lightest massage guns we reviewed, along with the comfort of knowing their a recognized leader, this is our best overall pick.
Pros
TSA approved for carry-on
Weighs only 2.6 lbs
5 speeds of percussion
Bluetooth speed controls (via Hyperice app)
The Hypervolt by Hyperice is our top pick. They are trusted by the world's most recognizable NFL teams, the NBA, and even Ironman (the grueling sport, not the superhero).

Their Hypervolt 2 Pro model is the most robust percussion device they offer to help with stiff muscles, so you can train harder and recover faster.
With their 5 head attachments (fork, ball, cushion, flat, bullet), you will definitely find one to work on your sore muscles.
And weighing in at only 2.6 lbs, you will be amazed by the pressure of a 90 Watt high-torque motor with five-speed settings. Additionally, it's TSA carry-on approved, and this device comes with a 1-year for any manufacturing defects in materials or workmanship.
Whether you're in the health industry, such as a sports trainer or chiropractor, or looking for the best overall massage gun, we're confident you'll be thrilled with this option. 
Best Professional Use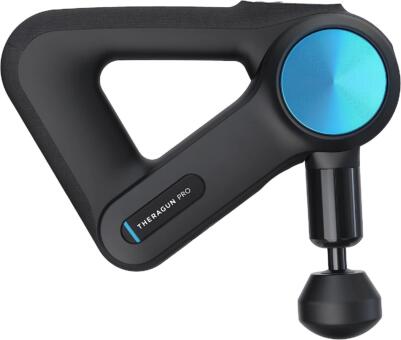 Hands down, the best option for a long-term investment in your health. Approved by athletes like us to get the best deep-tissue massage possible.
Pros
2-year limited warranty (device)
60lbs Max Pressure
18 Total Routines
Cons
Batteries go quick - recommend getting a spare set
If you're looking for the "best of the best," this is the option we prefer. Founded by Dr. Jason Wersland and backed by extensive research and science, this percussion massage gun is athlete approved.

Currently, in its 5th generation, the PRO model offers 4 unique arm positions designed to create ideal angles to reach any area of the body. The six included attachments have a highly engineered locking mechanism and include the following:
Micro-Point - best for pinpoint, deep-tissue massage for the highest intensity, such as hands and feet.
Thumb - also on the higher level of intensity, used mostly for trigger points and the lower back.
Wedge - this medium-level setting is best for shoulder blades and IT bands and can be used for "scraping" and "flushing" movements to increase blood flow.
Standard Ball - also a medium-intensity attachment, which is great for all-around general use.

Dampener - this lower-intensity option can be used mostly for tender or bony areas.
Supersoft - and finally, there's an ultra-gentle option for especially sensitive or sore areas.

With 5 speeds, 60lbs of max pressure, a QuiteForce motor, and visually guided routines, we're sure you'll love the extra investment of this massage gun.
Best Value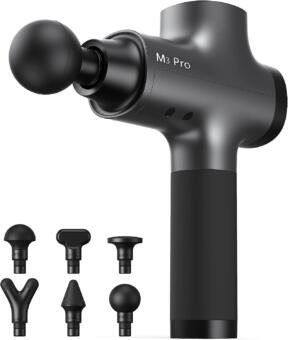 If you're looking for a powerful massage gun at an affordable price (less than $130), this one is for you!
Pros
Extremely quiet
5-speed levels
Long battery life
Cons
Might auto-shutoff to cool down
This cordless percussion massager offers excellent value for money and is our favorite for several reasons.
The M3 has a high-torque motor and offers a stroke length of 12 mm. It's the perfect percussion massager for reducing soreness, supporting recovery, and helping you increase your range of motion.
It has adjustable intensity and 5-speed levels, ranging from 1,300 to 2,500 RPM/minute. 
The M3 Pro Massage Gun comes with six attachments allowing for different types of massage:
For bulk muscle groups
For a deep tissue massage or a more precise massage
For massaging the spine, neck, and Achilles
And for muscle relaxation and muscle plasticity
We also love how this massager is extremely quiet, thanks to its quiet brushless high-torque motor. The result? The noise is just less than 55 dB.
We also love its charging power. With the lithium-ion rechargeable battery, you can get up to 8 hours of massage per charge.

Best Wand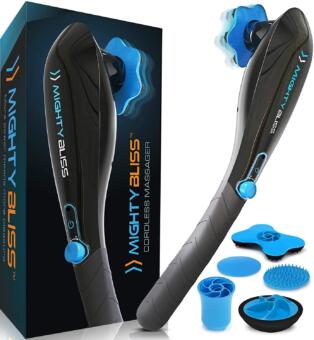 Handheld massagers work best for those difficult-to-reach spots on the back, and our review puts this one in a top spot.
Pros
Lifetime warranty
Great ergonomics
6 unique massage heads
Cons
Not as powerful as the others
For people who are on the fence about buying a massager or who don't want to overspend but want to reap the benefits of these powerful handheld machines, this is the massager for you.
This model from Mighty Bliss is just as effective at increasing blood circulation, relaxing muscles, and getting those knots out of your back as the more professional-grade machines. This massager has a 3,700 RPM percussion motor, although it's worth noting that it is moderately intense at its maximum setting.
With a super slim design, we love this massager because it's lightweight and cordless, so you can take it pretty much anywhere.
It has six massage heads, including a pronged deep-tissue massager head. It's super effective at relieving pain all over your body, from your neck and shoulders to your feet and legs.
The rechargeable lithium-ion battery lasts for more than 2 hours on a single 1-hour charge, and the length of the massager makes it easy to reach even the most out-of-reach parts of your back.
Best Travel Use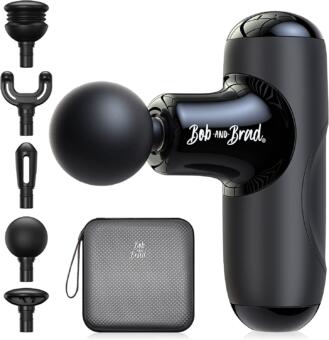 With a never-before-seen balance between power and size, the Q2 is a convenient option for getting quality relief on the go.
Pros
Only 0.95 lbs
Compact and quiet
USB-C charging
Cons
2 hours of battery life
35lbs of force
And finally, we wanted to include a compact option perfect for travel that will not take up much space while still providing incredible muscle relief.

Barely larger than your hand and weighing in at 0.95 lbs, this tiny massager packs a punch. It has 35 lbs of force, includes 5 attachments, and last 150 minutes on a single USB-C charge.

Founded by personal trainers, the Q2 massage gun won the TechRadar Editor's Choice for 2023, and we know you'll love it too.

Frequently Asked Questions
Percussion Massagers
Percussive therapy effectively improves and accelerates muscle fiber repair through quick bursts of pressure into the tissues. This, in turn, boosts blood flow, relieves pain, and improves range of motion.
It is also known to enhance flexibility, relax thickened connective tissue, break down internal scar tissue, and improve circulation in the lymphatic system.

Cellulite, which refers to the formation of lumps and dimples on the skin, is thought to be related to an interaction between the connective tissue and the layer of fat below it.
Percussive therapy is believed to be able to help break down the fat cells to reduce the appearance of cellulite as an alternative to liposuction, though studies are ongoing.
After an injury, scar tissue forms in the body. When that tissue is activated utilizing vibration waves through deep tissue percussive massage, the scar tissue starts to break up along with muscle knots or bands of rigid tissue that cause inflammation and pain.
Conclusion
There are a lot of different percussion massagers out there as this novel approach to recovery really takes off. How do you know which is the right one for you?
Percussion massage guns are available in a wide range of prices and with many different variations and possibilities. Your best bet is to figure out exactly how you'll want to use your machine and then work backward to find your ideal model.
While you might not know which one you'll buy in the end, your decision to add percussive massage therapy to your repertoire guarantees that you'll feel less muscle tension.
You'll return to the gym for another intense workout faster than ever.