7 Top Rates Home Gyms For Full-Body Workouts and Increased Strength
Fitgenic is proudly reader-supported, and we may receive compensation through links you click on. See our affiliate disclosure to read more or inquire about partnerships.
Choosing a home gym can be daunting. We've narrowed down the options. This review buying guide has the best picks from compact to complete and gym-quality.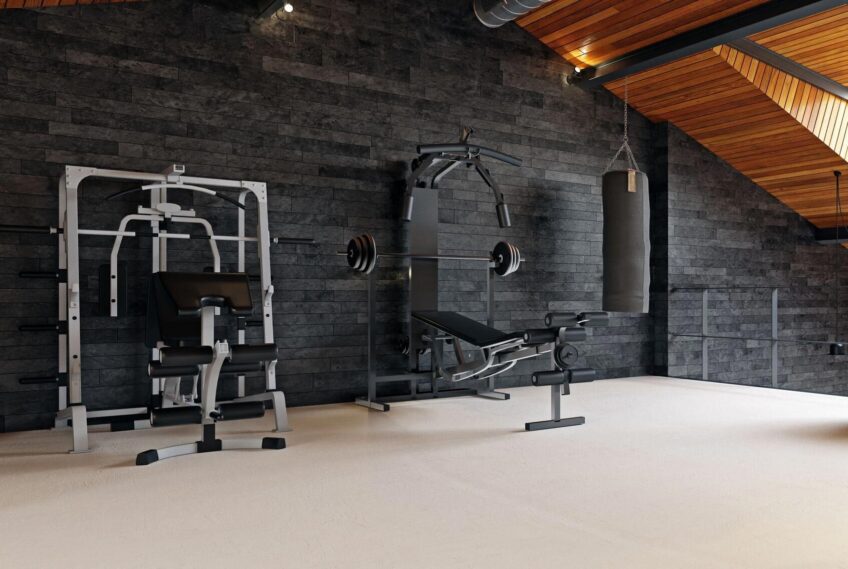 There's no denying that exercise is vital for physical and mental health, but it can become difficult to allocate enough time to exercise in our busy everyday lives. If you're struggling to get to the gym, a great, cost-effective, time-saving option is to invest in a home gym.
When choosing a home gym, the sky's the limit.
From simple, relatively inexpensive home gyms to state-of-the-art options, it can be hard to decide on the right one for your needs.
That's where we come in -- we're here to help you carefully weigh the pros and cons of each, then decide that factors in the features and benefits within the budget you can afford.
What is a Home Gym?
A home gym is all-in-one exercise equipment designed for home (or potentially office) use.
In most cases, it offers several settings and exercise options for a full-body workout. Home gyms tend to be smaller and easy to store and come with comprehensive instructions and exercise manuals to help you benefit from the equipment the most.
The design and manufacturing specifications vary from product to product, so it's essential to do your homework to find one that offers the functionality and manufacturing quality you need at a price you can afford.
You can find a quick list below if you want to get right into our top picks on home gyms. Each option we selected is the best in class for that specific category.
Featured Home Gyms in this Review Guide
Why Should You Buy a Home Gym?
There are many benefits to owning a home gym. Let's go over a handful of them.
Cost Factor – While the initial investment of purchasing a home gym may seem like a lot of money, you'll be delightfully surprised at how affordable it is to get started. And, if you compare it to the cost of a gym membership, a home gym quickly becomes a more cost-effective alternative.
Equipment Quality – Most gyms have middle-of-the-range equipment, but with a home gym, you can choose exactly what you want to spend your money on and where you want to save.
No More Excuses – You can't blame the weather, the traffic, or the schedule because there's always time to fit in a quick workout at home. Getting fit just got a whole lot easier!
Privacy – For many of us, going to the gym can be a stressful experience because it feels like everyone is watching and judging. As many as 65% of women in the US avoid going to the gym because they're worried about being judged. Wear any clothes you prefer.
Control – There's no need to worry about the gym being too busy, noisy, or dirty. You can set up your home gym and choose how to train. Grunt, all you want!
Time – An average workout takes about 45 minutes to an hour. That's the time that you spend actually exercising. But if you're going to the gym, you'll need to add travel time, time to change and prepare, and any time you spend waiting for machines during busy times.
Adding all these benefits together makes for a highly efficient mode of getting in the ultimate shape.
How Do You Choose the Right Home Gym?
With so many different home gyms to choose from, each offering a unique set of features, it can be challenging to narrow down your options. The best choice will depend on the exercises and muscle groups you want to target, and from there, you'll need to narrow down the options that fit your budget.
We've chosen the best home gyms across various price points and design features.
Our top picks are based on the quality of the design, the number of exercises that can be performed using the gym equipment, the brand name, reviews, and online availability.
Our goal is to provide a comprehensive buying guide that makes your decision easier. In addition to the home gyms that we've reviewed here, there are several others that we've looked at, but they couldn't match our best picks against features and benefits.
These home gyms will allow you to improve your physical and mental health from home comfort. They all offer a full-body workout that lets you set up your exercise routine to fit in with your life and fitness goals.
The buying guide breaks down the different options, looking at the pros and cons and the most important features to give you a good overview of the top options at various price points. Let's get started!
Best Overall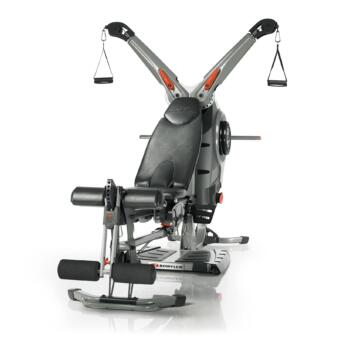 If you're looking for the absolute best, this home gym machine is the well-known brand name that you want!
Pros
SpiraFlex® Technology
100+ exercises
600 lbs of resistance (with upgrade)
Quick change in resistance
Cons
High price point
Requires proper exercise form (not for beginners)
 Bowflex has been the leader in home gym equipment since 1986, and its name is extremely well-known.
This fitness machine is built using Bowflex's patented SpiraFlex® Technology. The unique resistance plates were designed for NASA to work independently of gravity and without inertia. Sounds fancy — but what does it mean?
In simple terms, the resistance on this machine is consistent throughout the entire range of motion.
There are independently moving arms that can be placed into 10 positions and 170 degrees of adjustment. With over 100 exercises and up to 600 lbs. of resistance, this home gym machine will offer plenty of workout options and variations.
With the preacher curl attachment, you can blast your arms. The leg extension will help you get strong and muscular legs. Finally, use the vertical bench for flys, wide-grip bench presses, and more.
This home gym is, without a doubt, our top pick!
Specifications
Product Dimensions: 73″ x 38″ x 112″
Assembled Weight: 336 pounds
Warranty: 10 years
Best Runner Up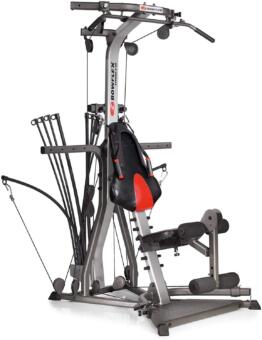 Also, with the great Bowflex brand name, this machine is our runner-up for its compact design and unique power-rod system.
Pros
High-quality fitness brand
70+ exercises
Compact design
Cons
Power-rod resistance takes getting used to
The Bowflex Xtreme offers over 70+ different exercises so you can get a full-body workout without leaving home, and it includes seven free workout regimens designed by a personal trainer.
Using resistance technology, you can use the machine to smash your strength training and fitness goals with exercises that target the back, shoulders, chest, arms, abs, and legs. The Bowflex Xtreme offers the highest design and manufacturing quality standards and has a 97% recommendation rate among their reviews and testimonials.
The Bowflex comes standard with 210 lbs. of power rod resistance that can be upgraded to 310 lbs or 410 lbs.
It features a sliding seat rail for rowing exercises and leg presses. It has a lat tower with an angled bar to help build shoulder and back strength quickly. It also comes with a squat bar to target your legs.
There are multiple pulley and cable positions to customize your workout. The home gym is designed to fold away and store easily and has wheels to move. There are also additional accessories, including instructions, triple-function hand grips, and ankle cuffs.
With this machine, you can add-on preacher curl or ab crunch attachments.
Specifications
Product Dimensions: 53″ x 49″ x 83.25″
Assembled Weight: 185 pounds
Warranty: 7 years
Best Complete Gym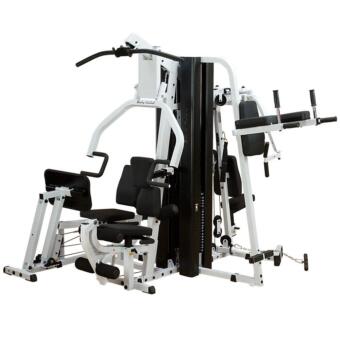 If you're looking for a complete home gym, this is it! With a lifetime warranty on the frame (and varying warranty on parts), this multi-station machine has it all.
Pros
Lifetime warranty
Complete home gym
Multi-station
Cons
Instructions might be cumbersome
Are you looking for a complete home gym solution? The EXM3000 is what you want — this top-of-the-range home gym was voted the Best Buy Home Gym by Consumer Digest, and for good reason!
It's a multi-station gym with a 210-pound steel weight rack, extra-thick DuraFirm pads, and a heavy-duty construction protected by a Lifetime Warranty that Body-Solid offers.
For the price, this home gym over-delivers.
It has a separate Pec-Fly station with its seat 3 pulleys (high, mid, and low) for close to unlimited exercise options such as tricep extensions and press downs, mid rows, leg abductions, lat pulldowns, crunches, and more. Then there's the Leg Developer for leg extensions and curls. The home gym also includes a lat bar, straight bar, utility strap, and an ab and triceps strap.
With its simple design that maximizes performance and minimizes price, the Body-Solid Strength Tech is loaded with 210 lbs. of resistance to build strength and definition quickly. The heavy-duty 2" x 4" 12-gauge high tensile strength steel provides ultimate strength and durability, while the Disaffirm Pads offer back support and comfort.
Construction is finished off with 2 x 200lb. strength steel aircraft cables manufactured to military spec for durability and low maintenance. The powder coat finish protects against chipping, peeling, and scratches.
Includes: Chest press, pectoral fly, leg extensions, rear delta, leg curl, upper pulley lat pull down, cable cross over, triceps extension and press down, ab crunch, lower pulley deltoid raise, shrug, bent-over row, standing curl, leg abduction, and seated row
Specifications
Dimensions: 73″ x 83″ x 91″
Weight: 446 Pounds
Warranty: Lifetime (send in registration)
Best Wall Mount

For incredibly minimal space, this wall-mount pulley system home gym might be precisely what you're looking for.
Pros
Great value
Extremely compact
Cons
Tricky to assemble
Must be wall-mounted
The Valor Fitness BD-62 home gym features an adjustable dual pulley system with strap handles.
In terms of benefits, we liked that it maximizes your space as it's small yet allows you to incorporate strength training with the included cable system for a full-body workout.
The Dual pulley system has 16 positions for a wide range of unilateral and bilateral exercises, while the double bar track provides stability, smooth action, and ideal resistance.
The one thing that's a bit different about this home gym is that it attaches to the wall at the top and bottom for maximum stability and support. It also includes strap handles that can be adjusted to 5 positions.
If you're wondering what you can do on the machine, the short answer is — a lot!
It can be used for bicep curls, triceps extensions, reverse flys, shoulder presses, squats, ab crunches, lunges, chest presses, rows, single-arm rows, pull-throughs, face pulls, and more.
Specifications
Dimensions: 80″ x 24.5″ x 25″
Max weight load: 250 lb.
Warranty: 3-years for the frame, 1-year for the cable
Best Mid-Level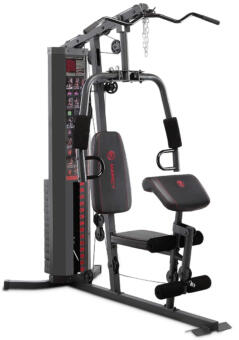 This machine has an impressive weight stack and is built to last for a great value at a mid-point option.
Pros
Over 30 strength training exercises
150 lbs weight stack
Weight stack safety lock
Cons
Might be a bit small if you're tall
Now, you can train your whole body without leaving home with over 30 strength training exercises courtesy of the Marcy 150-lb home gym.
This fitness equipment features press arms for chest press and pec fly exercises and a leg developer for leg extensions and curls.
Then, the high and low pulleys are connected to a 150lb adjustable weight stacking. And lastly, you can tone your abs and triceps with the adjustable curl pad — everything you need in one machine built to last.
We really liked the quality and flexibility of the Marcy home gym, which is made with heavy-duty steel tubing reinforced with guard rods for a safe, stable workout experience.
The weight stack lock is customizable according to your strength and skill level and doesn't have the stress of loading or removing weight plates.
The price point of just under $600 (at the time of this writing) is great for a mid-level home gym machine. Give this one proper consideration.
Specifications
Dimensions: 68″ x 36″ x 79″
Shipping Weight: 273 pounds
Warranty: Not listed
Best Compact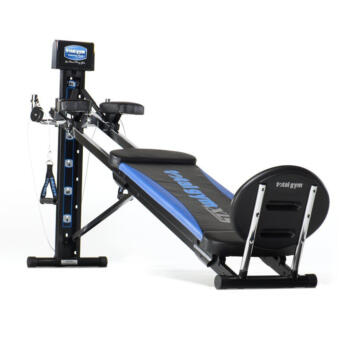 This iconic home gym option is excellent if you're short on space, as it easily slides under a bed or other furniture.
Pros
Arrives fully assembled
12 levels of body-weight resistance
No home gym review would be complete without the Total Gym. Remember those commercials with Chuck Norris and Christie Brinkley? Well, maybe the younger generation might not remember — what an iconic duo in the fitness infomercial space.
The Total Gym XLS home gym works for multiple muscle groups simultaneously so that you can strengthen and tone for real results. This compact home gym offers over 80 exercises.
Using the Workout DVD, you'll quickly become familiar with the range of exercises (over 60!) that allow you to do cardio, strength training, and stretching using only this machine.
The Total Gym XLS makes you lift a percentage of your body weight against gravity, creating a smooth and fluid resistance. As your strength and conditioning improve, you increase the total resistance by boosting the incline, thus increasing the body weight lifted in the exercise.
We liked that it was great for all ages and abilities, delivering a total body workout in under 20 minutes. One of the major selling points is that it arrives fully assembled, so you don't have to go through the stress of doing it yourself, which is the principal disadvantage of most home gyms.
Another useful point is that it's really quiet. It folds away easily and is small to store, and it has many features for the price you pay.
Specifications
Product Dimensions: 90″ x 119″ x 43″
Shipping Weight: 73.2 pounds
Warranty: Not listed
Best Smith Machine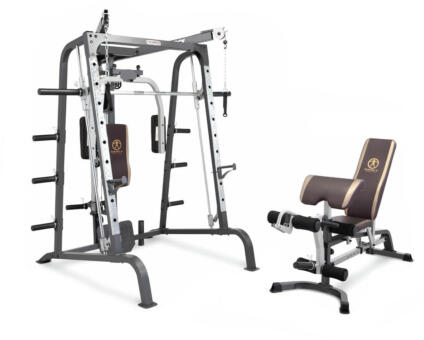 If you have the space and want the most complete home gym option, this is the one!
Pros
All-steel construction
100 club-quality exercises
Complete home gym
Cons
Challenging assembly
Bench not completely flat
This complete home gym allows for an incredible 100+ exercises. It's built to last with a heavy-duty steel frame reinforced with a powder coat finish. The sturdy aircraft cables are also built for durability with a tensile strength of 2,000 lb.
We found this a great all-in-one workout station, combining various arm and leg stations that allow you to strengthen different muscle groups for a comprehensive full-body workout. The upside of this, of course, is that you don't need to switch between gym equipment.
The 3 most important features are the multi-functional press arms for various arm and chest exercises to work on your pec, tricep, and bicep muscles, among others. Then, there's the dual-action leg developer with six oversized rocker pads and a row and curl bar.
It's designed to ensure that you do the exercises with the proper form, so you get the maximum effects without the risk of injury. The last important feature is the Olympic free-weight track for weightlifting or strength training.
It has 6 weight plate pegs that can be easily organized for accessibility.
Specifications
Product Dimensions: 95″ x 79″ x 86″
Product Weight: 430 pounds
Shipping Weight: 437 pounds
Warranty: 2 Years
Conclusion
Our top picks are the Bowflex Revolution for best overall performance and the Bowflex Xtreme 2SE for its unique and challenging workouts. 
With the Bowflex, you'll get over 100 exercise options in one machine, and the quality is unmatched.
Either excellent Bowflex option punches above its weight. Their multi-functional capacity makes either home gym a top choice if you're looking for the best-in-class options. 
The other home gyms on our list are available at various prices, and we wouldn't hesitate to recommend any of them. All home gyms reviewed offer excellent build quality and value for its specific category.