4 Top Rated Resistance Bands For Your Home Gym
Fitgenic is proudly reader-supported, and we may receive compensation through links you click on. See our affiliate disclosure to read more or inquire about partnerships.
If you're looking for an effective and gentle alternative to weights, resistance bands are for you. Our review guide covers the best available options.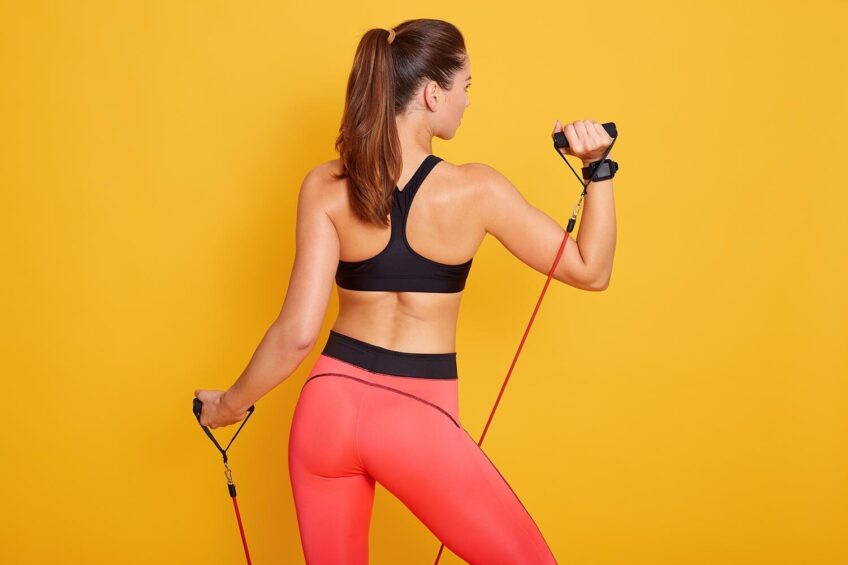 We're always looking for great ways to improve our fitness and strength. One of the key areas that we look at is convenience.
Getting to the gym is not always possible, and a home workout can be quite limited if you don't have any equipment. Resistance bands solve this issue by being lightweight and small yet flexible enough to add value to almost anyone's routine. And the best part is they're extremely affordable.
They are an effective, gentle alternative to weights. Because they're so versatile, they can be incorporated into almost any fitness program, from weight training to Pilates, yoga, and body conditioning.
Resistance bands work with positive and negative forces, so there is constant tension on the muscle both when it is flexed and as you release it so that it works in different ways to what the muscles are used to. The results? You get better results.
If you're looking to skip our in-depth review and jump right into a purchase, the table below summarizes our findings on resistance bands. All are great options. Please read below to learn more about each.
Featured Resistance Bands in this Review Guide
How to Choose the Best Resistance Bands
With so many different resistance bands on the market, narrowing down your options and choosing just one brand can be difficult. The best option will depend on what you need and your budget, although budget is less of a factor as resistance bands tend to be affordable, ranging from around $10 to $30.
We've chosen the best resistance bands based on brand quality, our experience, the quality of reviews, and your ability to shop them online. Then, from this list, we narrowed it down to our top options by looking carefully at the features of each, their durability and quality of the product, the overall value they offer, and the price point.
Our comprehensive comparison guide is available to give you all the information you need to make buying a set of resistance bands easier. With resistance bands offering such an extensive range of benefits to your health and well-being through increased muscle strength, conditioning, and stability, this exercise band shortlist gives you access to a home workout that will provide real results.
Our buying guide will break down the different options and share some pros and cons so you can choose the best resistance bands for exercising at home, at the gym, or even in your hotel room.
Purchasing Resistance Bands
People often avoid using resistance bands because they're unsure how to use them and don't know how to include them in a workout. Luckily, there are a number of training videos available online to help get you started, and I'm sure you have already searched YouTube for them.
So, once you're comfortable with how to use them, maybe you want to know why you should use them.
The price point and sheer convenience of resistance bands make them one of the most appealing exercise options.
In addition, tennis players have used resistance bands to increase shoulder strength successfully, and baseball pitchers were able to strengthen rotator cuff muscles more effectively with resistance bands than by using dumbbells.
And, if that wasn't enough, Tom Brady of TB12 is a huge advocate for using resistance bands during training.
If you're serious about working out by yourself, resistance bands should be one of your first home gym purchases because:
You don't need a gym membership to get into great shape
You can target specific areas or use them to rehab an injury
They offer progressive resistance and variable speed of movement
They increase muscle size and decrease body fat
They offer resistance in multiple directions
They can be incorporated into any workout, whether at home, at the gym, or out and about
They increase coordination and engage core stabilizer muscles to improve your routine's efficacy
They're affordable, yet often more effective than other, more expensive equipment
You get a full-body workout as the band can be positioned to work for different muscle groups
There's an endless number of exercises and workouts that can be done with them
They don't take up much space and travel well
They're useful for all fitness levels, from beginner to advanced
You can use them with your usual routine for improved results
Let's look at the top resistance bands and the many options available!
Best Overall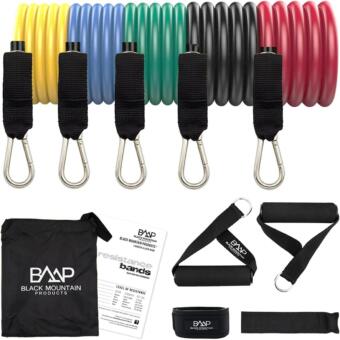 Hands down, this company has consistently impressed us. They have many variations of resistance band sets, and this option is the perfect starting point.
Pros
Features commercial grade grommets
High thread count nylon and double stitching at all seams
Durable carabiner clips rated up to 200lbs each
Lifetime warranty
Cons
Might outgrow this starter set quicker
The resistance bands from Black Mountain Products come as a set with five bands, a door anchor, an ankle strap, an exercise chart, and a carrying case.
Join thousands of happy customers who have given this set a five-star rating — for a durable, high-quality product that adds variety to your exercise routine or will help with physical rehab after an injury.
They can be stacked to a maximum of 75 lbs., with a yellow band (2-4 lbs.), a blue band (4-6 lbs.), a green band (10-12 lbs.), a black band (15-20 lbs.) and a red band (25-30 lbs.).
The resistance set features commercial-grade grommets, durable carabiner clips (rated up to 200 lbs. each), high thread count nylon, and all seams are double stitched. The set also includes a metal clipping system that allows you to attach soft-grip handles or anchor straps.
Bands produced by Black Mountain Products combine a proprietary blend of synthetic and natural rubber, standardizing the resistance's consistency while providing a much longer band lifespan. This commitment to quality allows Black Mountain Products to offer a manufacturer's Lifetime Warranty.
The bands can target most major muscle groups, including biceps, triceps, upper and lower back, abs, core strength, and quads and calves. This offers endless opportunities for a full-body workout from the comfort of your own home.
Best Loop Bands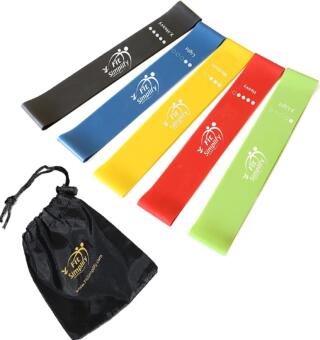 Loop bands are a bit different than standard resistance bands, but this option is a strong consideration, especially for therapy exercises.
Pros
Great for stretching and physical therapy
Extremely portable
Lifetime guarantee
Cons
Not designed for heavy use
With over 120,000 reviews and affordable prices, the Fit Simplify Resistance Loop Exercise Bands get our vote for the best loop bands offered. They come in a set of 5 with an instruction guide, carry bag, eBook, and online workout videos.
These heavy-duty resistance loops are manufactured to the highest standards and made with natural latex that is 100% TPE-free. The five different resistance levels make them the perfect option whether you're a beginner or a fitness pro looking to level up your home workout.
They're incredibly versatile and can be combined into your Yoga or Pilates session or as part of a general stretching and strength training program. These fitness loops are often used for fitness and sports but are often incorporated into a physical therapist's rehabilitation program for injuries. They are also ideal for body shaping and conditioning and weight loss.
Best Complete Set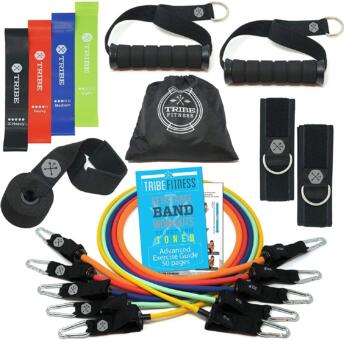 With a door anchor, ankle strap, loop bands, and eBook, everything you need is included in this ultimate resistance set.
Pros
Includes bands AND loops
100% natural Malaysian latex
Double-webbed ballistic nylon straps
Comes with door anchor
Cons
Shipping was slightly delayed
The Tribe exercise bands for working out include 5 color-coded stackable tube bands, 2 cushioned handles, ankle straps, a stable door anchor, a carry bag, and an eBook to help you get the most from your set.
If you've been stressing about the cost of a gym membership, these bands offer an alternative low-cost option. The Tribe resistance exercise bands have been designed to maximize your home workouts, whether you're just starting or have been exercising for years. They can be used one at a time or stacked in any combination you need for optimal resistance.
With Tribe's bands, you can build an effective at-home or on-to-go routine for your arms, shoulders, abs, legs, and glutes. And you can do it stress-free because the double-layered eco-friendly latex bands won't snap. They are tested to ensure they're snap, stretch, and sweat-resistant. The straps are also incredibly durable, made from fiber-reinforced, unbreakable polymer and ballistic nylon.
Best Value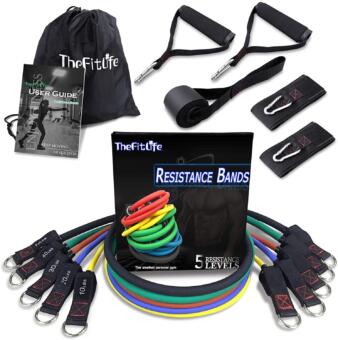 We love this resistance band set for the best price and overall value of included accessories.
Pros
Double cores anti-snap tubes
Reinforced lock with double layers fabric
Comes with ankle-strap and door anchor
Cons
May not hold up to extremely heavy use
Burn fat and build muscle with the lightweight, portable TheFitLife resistance training bands as you exercise from the comfort of your home or on the go. This versatile solution can be stacked and used in various ways to tone and build muscle as you increase coordination, flexibility, stamina, and range of motion.
And because the bands can be used to exercise different muscle groups, they offer a full-body workout for your shoulders, arms, legs, glutes, and more.
Whether you're a fitness enthusiast or just getting started, these exercise bands are ideal as you can increase the intensity of your workout as your strength improves. They can be used alone or in any combination you need, from 10 lbs to 110 lbs. The attachments mean your home workouts have more flexibility than ever before when you attach the soft handles, the ankle straps, or the door anchor.
The bands are made from premium, non-irritant, and odor-free materials to ensure a long lifespan and remain safe for regular use. The set has a lightweight bag, a door anchor, 2 larger straps and handles, and an exercise guide.
Frequently Asked Questions
Resistance Bands
A resistance band is a flexible, elastic band, usually made from latex, used for strength training. They can be used for a wide range of exercises that target the body's major muscle groups and are often incorporated into many workout routines.
Studies show that our muscles respond to strength training using resistance bands and if we were to use exercise equipment such as free weights or other machines. The most popular applications include physical therapy for muscular and joint injuries and sports and fitness.
Conclusion
If you want an affordable option for at-home workouts, resistance bands offer an extreme amount of flexibility. More so, exercise bands are incredibly portable and can easily be added to your luggage for travel. Resistance bands should definitely be a core part of your home gym. 
Good luck incorporating resistance bands into your rehabilitation program or fitness routine – we know it will be a great addition to your workout!