5 Quality Testosterone Booster Supplements to Increase Muscle Mass
Fitgenic is proudly reader-supported, and we may receive compensation through links you click on. See our affiliate disclosure to read more or inquire about partnerships.
Finding top-rated testosterone supplements can be difficult. This buying guide and in-depth review clears the clutter and provides science-based facts.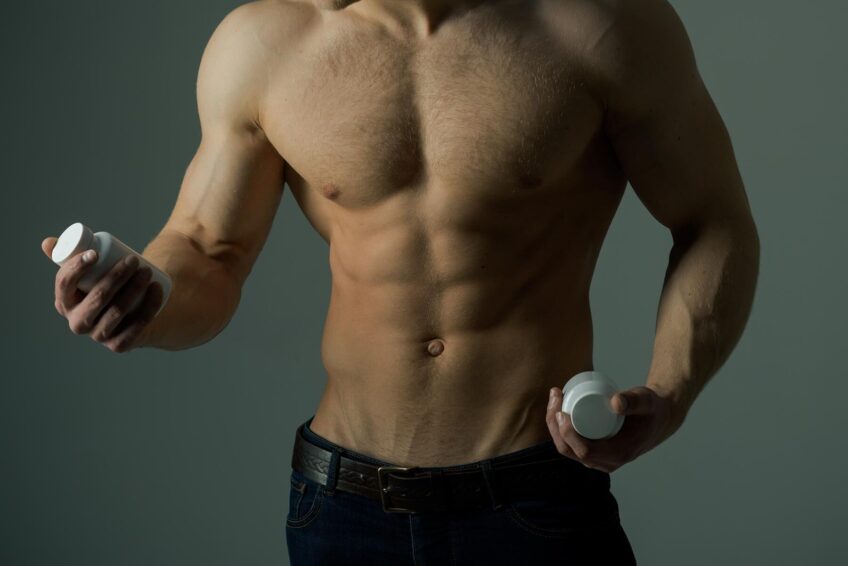 You have been hitting the weights hard and fast for some years. You put in the effort, train five days a week, push yourself hard daily, and stay committed.
You have dialed your diet in, and you stick to your macros. You eat healthy food and a properly balanced diet with lots of nutrients and the right amount of protein.
You see significant progress in the gym, you are slowly getting bigger and stronger, and you are progressing through the weights.
Throughout your years of training, you have forced your body to change for the better through pure determination, and you are proud of your achievements. Congrats!
But something is annoying you. Your friend, let us call him Alex, started training with you six months ago. He started training at a similar build, weight, and strength level that you did all those years ago.
Now, Alex has a terrible attitude to the gym -- he regularly misses training days and often lacks the heart and soul you apply to every workout.
His lack of commitment also extends to his life outside of the gym. His diet is decent, but he consumes foods that hurt testosterone. He rarely follows his macros, and his alcohol consumption is far too high.
The annoying thing? In the short time that Alex has been training with you, you have noticed that he gains mass and strength at a much, much faster rate than you did. He has nearly caught up to you in size and strength in his short training.
It doesn't make any sense, and it isn't fair.
The culprit here is most likely to do with testosterone levels.
Before starting, please note that this testosterone review guide is for healthy people and should not replace medical advice. Always seek a medical professional if you have serious symptoms or medical conditions.
Testosterone Supplement Buying Guide
We will review each product on our list in-depth, but if you don't want to read all the reviews, these five made it onto our list.
All of these products have great reviews and ingredients, and we are confident you will see results with all of these products.
Featured Testosterone Boosters in this Review Guide
What is Testosterone?
For those who do not know, testosterone is an androgenic male sex hormone. On average, men produce between 5-10 mg of testosterone a day, and 95% of this production comes from the testicles in a man, with most of the remainder coming from the adrenal glands.
Testosterone enters your body's cells through the cell walls and binds to androgen receptors -- this has a range of different potential side effects on your body.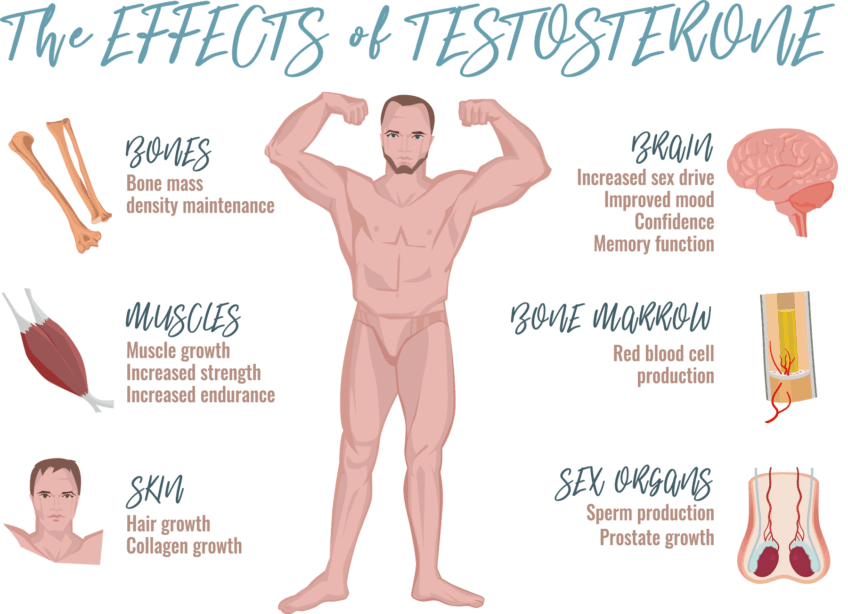 There are many key roles and effects that testosterone has on the body. In a healthy adult, testosterone has the following effects:
Muscles
The higher the levels of testosterone found in the body, the more efficient your body becomes at synthesizing proteins. Increased protein synthesis leads to much better muscle mass gain and strength.
This is why you might not see the same strength and size gains as your friends at the gym. Unfortunately, some people have a lower natural abundance of testosterone in their bodies. This is why you will hear so many bodybuilders and athletes talking about genetics.
Body Fat Percentage
Testosterone actively denies the storage and uptake of fat. It also forces your body to create more of the androgenic receptors responsible for fat burning. That is why it is often the case that people who gain mass and strength quickly with little effort also find it easier to drop that fat quickly as well.
Brain
Testosterone has a massive effect on your cognitive functions, too. It affects mood levels and sexual performance. Scientists also believe that testosterone levels can even have a role to play in how good your memory is.
Heart
Proper testosterone levels promote a healthy heart by increasing the rate you pump oxygenated blood around your body. Blood flow is critical for all aspects of the human body.
Bones
Testosterone can even increase the speed that your bones grow and make them denser, too -- this is why people with high testosterone often have stronger bones and better red blood cell production.
Skin and Hair
Hair growth and skin quality are also related to your testosterone levels. The higher your test levels, the healthier your skin is, and the thicker your hair will be.
Sexual Function and Mood
And, of course, we all know that a healthy testosterone level will help you in the bedroom. While low testosterone levels can also be linked to depression, it's vitally important to check with your doctor to rule out other possible causes.

Best Overall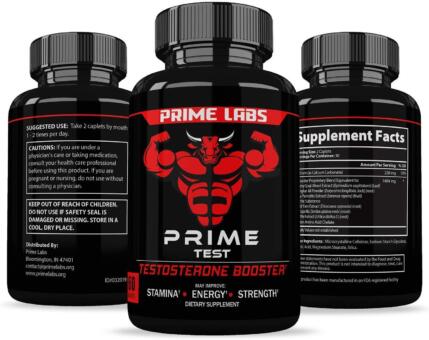 We love the ingredient list, and for less than $20/bottle, this testosterone supplement tops our list.
Pros
American Made
Great value
Natural ingredients
Free of Binders and Fillers
Cons
Proprietary blend doesn't offer exact ingredient amounts
The first recommendation on our list is Prime Labs Test Booster. This product contains quality ingredients and is made in the USA.
Their innovative formula is guaranteed to optimize your performance in the gym. Using only the best natural ingredients taking this booster will promote an improved mood, stronger leaner muscles, and enhanced fat burning.
With 5-star reviews in the multiple 10-thousands and counting, this is a product you can trust to get results.
Ingredients
Calcium (as Calcium Carbonate), Horny Goat Weed (Leaf), Tongkat Ali Powder (root), Saw Palmetto Extract (fruit), Orchic Substance, Wild Yam Extract (root), Sarsaparilla (root), Nettle Leaf Extract (root), Boron Amino Acid Chelate, Microcrystalline Cellulose, Sodium Starch Glycolate, Stearic Acid, Magnesium Stearate, Silica.
Best Single-Ingredient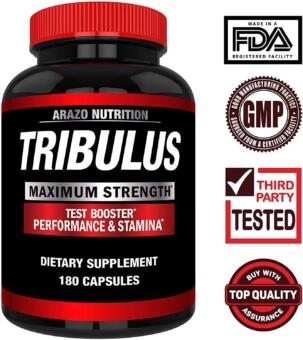 Super Charge Your T-Levels, vitality, and energy with this single-ingredient powerhouse, containing 1,500mg of tribulus.
Pros
High quality Tribulus Terrestris
Increases libido
Supports heart health and circulation
Cons
Single-ingredient product
May cause digestion sensitivity
If you're looking for a single-ingredient testosterone supplement, you'll love this product by Arazo Nutrition USA. This product uses Tribulus Terrestris as the only ingredient and for a good reason.
Tribulus is a chemical first used by Russian powerlifters. Known by many as "the original powerlifter secret," this product contains 1,500mg of Tribulus extract.
Tribulus has been used for hundreds of years by the ancient Greeks and Romans to support healthy fertility and increase strength performance.
Scientists believe that even though Tribulus contains no actual hormones, the chemical can raise the body's natural test levels -- this means you will see a massive increase in muscle growth, fat-burning potential, and sexual health.
This product is made in America to FDA and GMP standards, which means you are getting a safe and reliable product.
If you want to see an increase in stamina, energy, and sexual drive (libido), this product has got your back.
The Tribulus extract used in this product is up to 10x more potent than other competitors. Produced to help you break through your plateaus and increase your physical performance in the gym, this is one of the best products on the market.
Also, since Tribulus is the only ingredient, you might wonder, "How does it help block estrogen?" -- Tribulus naturally blocks the aromatase enzyme, which converts testosterone to estrogen.
Most testosterone products contain small amounts of Tribulus, making them mostly ineffective. At higher doses, there are many additional potential benefits, such as anti-inflammatory effects, pain relief, and even possible anti-cancer effects.
Ingredients
Tribulus Terrestris Extract 1500 mg.
Best Quality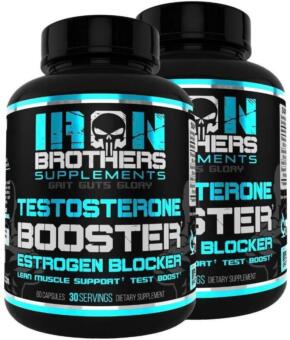 With four simple ingredients, this testosterone booster also includes a powerful estrogen-blocking ingredient.
Pros
Estrogen blocking compound
High-quality ingredients
Heart-healthy benefits
Cons
Higher priced (for quality)
Known for creating excellent quality supplements using high-quality ingredients, Iron Brothers has created a superb testosterone-boosting product.
They know that as we get older, our natural testosterone levels begin to drop. This is a product aimed at combating this drop in hormone levels.
You get the best of both worlds by using high-quality natural ingredients like Tribulus Terrestris combined with Indole-3-Carbinole.
With Tribulus, you get testosterone-increasing benefits. I3C provides anti-estrogen effects in the body.
Also, the added grape seed extract has antioxidant effects and may provide added heart benefits.
Iron Brothers promise that by using this product, you will see an increase in libido and sexual stamina, massive strength gains in the gym, and an increase in fat-burning potential.
Their product is extremely clean -- there are no additional additives or chemicals. When you buy Iron Brothers, you know exactly what you put into your body.
If you want a testosterone booster supplement with a transparent label created to FDA standards and formulated by science for a fantastic price, we advise you to look closely into this product.
Ingredients
Tribulus Terrestris Extract, Grape Seed Extract, Indole-3-Carbinole, Bioperine.
Best Multi-Ingredient
Pros
Premium ingredients
100% Money-Back Guarantee
Primarsurge is an innovative test booster using various ingredients that are different from the usual offering.
Some of these ingredients include:
Eurycoma Longifolia Extract - supports natural test levels and has anti-estrogenic properties.
Boron - a key mineral in aiding free testosterone levels in the body.
Bioprene - enhances the bio-availability of all the other ingredients in the product.
Ashwagandha - a powerful energy, mood, and testosterone booster.
Safed Musli Extract - an all-natural ingredient that is a powerful adaptogen that boosts testosterone levels and promotes overall well-being.
Primavie (shilajit extract) - a powerful natural compound formulated to support free testosterone levels in the body.
The result of this carefully created formula is a testosterone booster supplement that is pushing the boundaries of test-boosting science.
If you want a premium natural test booster, which will aid in muscle-building strength and fat loss, and a product that is manufactured in the US in a CGMP facility, this is one of the most scientifically advanced formulas there is.
Ingredients
Eurycoma Longifolia Root Extract (100:1) - 100mg, Ashwagandha Root Extract (5:1) - 250mg, Safed Musli Extract - 125mg, Primavie - 125mg, Boron Citrate (5 mg of Boron) - 100mg, Bioperine - 5mg. Other ingredients: hypromellose capsule and leucine.
Best Post Workout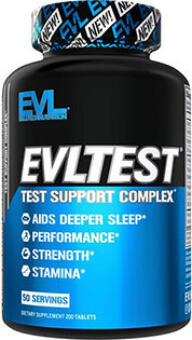 Rounding out the top testosterone supplements is this all-around formula, including a ZMA blend and DIM.
Evlution Nutrition is a trusted name in bodybuilding supplements. Their wide array of muscle growth and testosterone-supporting products have the performance edge you deserve at the gym and at home.
With this product, you will have the added benefit of a powerful ZMA blend for deeper sleep, plus it's made in a cGMP manufacturing plant.
And finally, this is the only product that made our review which also has DIM, the by-product of I3C for helping to block estrogen.

Ingredients
Vitamin D3 (as cholecalciferol), Vitamin B6 (as pyridoxine hydrochloride), Magnesium (as magnesium aspartate), Zinc (as zinc monomethionine and aspartate), D-Aspartic Acid, Tribulus Terrestris Fruit Extract (Standardized to 45% Saponins), Fenugreek Seed Extract (Standardized to 60% Saponins), DIM (Diindolylmethane), Microcrystalline Cellulose, Silicon Dioxide, Deionized Water, Magnesium Stearate, Isomalt, Carboxymethylcellulose, Povidone, Hypromellose, Glycerine.
What to Look for When Buying a Testosterone Booster
Let's discuss the factors we look into when deciding which of the thousands of testosterone boosters are on the market.
If you want to know why we chose the products we did or if you want the tools to be able to research and choose a testosterone booster supplement for yourself, carry on reading.
Quality of Ingredients
When choosing your dietary supplements, the quality of the effective ingredients will always be number one on the list when it comes to researching.

Always opt for supplements that contain 100% natural ingredients.
Check that the supplement you are considering contains only the highest quality synthetic ingredients.
Look for lab certificates or FDA approval. This way, you know that the chemicals used in the supplement are safe.
Companies often use something like a "proprietary blend" or "secret formula." While not all these companies are dodgy, we advise you to be careful or start with a lower-than-recommended dose to evaluate your tolerance.
Scientifically Backed
Often supplement companies will use slogans like "This ingredient will boost your test by xxx%" with no scientific evidence supporting their claims. As a rule of thumb, it usually is if something seems too good to be true.
Allergies
It shocks us to see how many people take a supplement without any research, only to be allergy-triggered. If you are allergic to anything, you should always check the label to make sure your allergies won't be triggered by taking a supplement.
Potency
Be aware that just because a product has an FDA label and contains the right scientifically backed ingredients doesn't mean the potency is regulated.
Ensure the dosage for the ingredients you want in your supplements is high enough. Just because a product contains Horny Goat Weed, for example, does not mean that it contains enough to see the desired result.
Natural Ways to Boost Testosterone
Supplements aren't the only way to boost testosterone levels. For the best possible results, we advise pairing your testosterone booster with the following natural method for boosting testosterone. If done correctly, you give your body the best chance to reach its peak testosterone levels.
Do Compound Movements
If you lift weights often and want to increase your natural test levels, make sure you focus on compound movements.
Studies have shown that focusing on your bench press, deadlift, and squat, forces your body to produce higher levels of natural testosterone. This is because compound movements significantly strain your central nervous system, sending signals to your brain to increase testosterone.
Keep Your Training Short & Intense
When you train for extended periods, your body releases cortisol, which is a chemical that attacks testosterone and breaks down your muscles.
Aim to keep your workouts as intense as possible with short rest periods. As a rule of thumb, aim for your workouts to be between 30-45 minutes and no more. Split your workouts to cardio in the morning and lifting later in the day.

Eat Your Proteins
Predictably, a diet high in protein aids in keeping your testosterone levels high. Protein gives your muscles the food they need to grow and recover. Protein also boosts your natural test production.
And let's be clear, not all protein is created equal. If you're vegan and want to cite the movie Game Changers for a protein discussion, also know that it has been de-bunked -- this is another topic entirely and for a future article.
Fats are Good
While not as crucial as your protein intake, ensuring the fats you consume in your diet come from a high-quality source is still important. Eating lots of good fats like salmon, avocados, and olives is a proven way to boost your testosterone levels.
Don't shy away from saturated fats either; it is a myth that they are harmful. Saturated fats break down into some of the building blocks of testosterone.
Don't take this as permission to eat as much cheese as you want, but ensure you are getting enough saturated fats to supply your body.
Ditch Alcohol

While this is not a way to boost your testosterone, alcohol is guaranteed to lower it. If you drink a lot, lower the amount you drink. If you drink a little, maybe try cutting it altogether.
Get More Sleep
A vast multitude of research has found that the quality and quantity of our sleep directly influence our bodies' functions.
That means that getting a good night's sleep will increase your testosterone levels and also helps with every other function your body does. That includes muscle repair, energy levels, and so much more.
Avoid Blue Light at Night
Blue light is the type of light produced by phone and computer screens. This light messes with your body's natural rhythm. As it gets later in the day, your body prepares for sleep. By exposing yourself to blue light around these times, your body will start producing higher levels of cortisol, testosterone's natural enemy.
Get yourself some  blue light-blocking glasses for nighttime TV.
Avoid Harmful Chemicals
We advise you to avoid harmful chemicals as much as possible. Some tricks to help you with that are:
Buy a water filter jug
Eat organic food
Use natural supplements
Check your hygiene products for toxic ingredients
What's the Science of Testosterone Boosting Ingredients
Tongkat Ali
"Malaysian ginseng" works like a catalyst for your natural test levels. It does this by encouraging your body's production of what is known as free testosterone.
The more free testosterone you have in your body, the more readily available it is to help support your body when it comes to repairing muscles and elevating your mood.
If you are looking at products that contain Tongkat Ali, look for the symbol LJ100 -- this is the patented version of Tongkat Ali. Making sure the manufacturer is using the patented form will allow you to guarantee that it is pure and safe.
Ashwagandha
When you are stressed, your body produces cortisol. Cortisol is the natural enemy of testosterone. Ashwagandha, or the "Indian Ginseng," is a chemical known as an adaptogen, and these chemicals help your body deal with stress.
When looking at products that claim to have Ashwagandha in them, look for the patent name KSM-66.
DIM
One of the most researched and studied testosterone boosters, DIM, comes from vegetables. It is found in broccoli, kale, cabbage, and cauliflower.
Not only does this chemical support natural test production in the body, but it also has another effect. This secondary effect is the one that makes DIM so sought after.
You see, DIM is an estrogen blocker, or better yet, an estrogen "balancer" for the body. That means that it stops your body from converting testosterone into estrogen: the result is a balanced testosterone level.
Frequently Asked Questions
Testosterone Supplements
Testosterone supplements use ingredients that encourage your body to produce more testosterone. For people with lower testosterone levels, this can help you see the benefits you want in the gym and increase your health in all areas mentioned above.
As a rule of thumb, stay away from hidden ingredients, look for patent numbers, and, if possible, stick to products with all-natural ingredients.
If used correctly, testosterone boosters can provide excellent results in the gym. But remember, it is a supplement.
There isn't a supplement on the market that will counteract a lousy diet and poor training program. If you look at testosterone boosters as a "shortcut," you will most likely be disappointed by the results.

There is no need to change your training routine just because you have started taking testosterone boosters. We still advise you to stick to the following basics.
Start with compound lifts. Think bench presses, deadlifts, and squats. After these, aim to work on your isolation movements.
The optimum time to take your testosterone boosters is either first thing in the morning or last thing at night, depending on the formula's instructions. 
Conclusion
Most people who have been training in the gym for a prolonged period of time have wondered about their testosterone levels.
If you have ever felt that you are not seeing the results that other people are, even though you are putting in the same effort, a good testosterone booster could be the missing key.
Unfortunately, in the supplement industry, it can be an absolute minefield trying to figure out which supplements do what they are supposed to do and which are overpriced rubbish.
We hate that the industry has become so saturated with awful products and bro-science-backed supplements.
Hopefully, after reading this guide, we have given you the tools to decide which supplements to purchase.
The testosterone boosters we have suggested here have all passed our strict requirements and tick several boxes. We have no hesitation in recommending them to you.
If you decide you want to do your own research, we hope that the information we have given you will help you narrow down your choices and avoid the multitude of awful products out there.
It should go without saying, but consult your doctor before starting any new supplementation programs.