6 Best Elliptical Machines for Full-Body Workouts
Fitgenic is proudly reader-supported, and we may receive compensation through links you click on. See our affiliate disclosure to read more or inquire about partnerships.
Are you looking for an elliptical machine to add to your home gym? We've reviewed the top-rated elliptical machines for any fitness goal.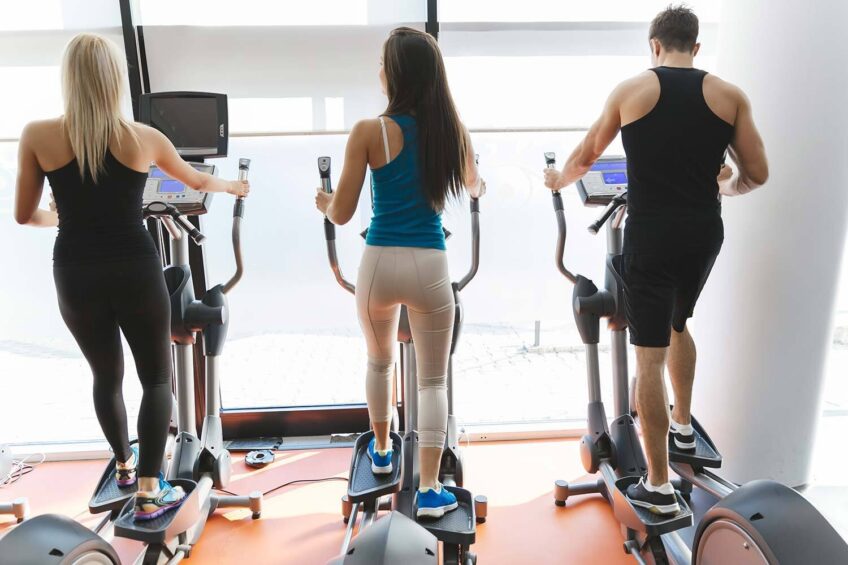 There are many health benefits to the elliptical machine the next time you head to the gym.
For starters, you get a great cardio workout while putting less strain on your body.
You get an upper and lower body workout that simultaneously uses your triceps, biceps, back, glutes, hamstrings, and quadriceps. No other machine works for so many muscle groups at the same time.
You burn more calories in less time since you're working so many parts of your body. And, if you go through the motions and let go of the handles, you can improve your balance and work your core.
For those of you suffering from knee, lower body, or hip injuries, the elliptical will still provide a solid cardio workout while protecting your joints from more damage.
But are you ready to invest in this unique fitness equipment and add an elliptical machine to your home gym?
Buying such a large piece of fitness equipment can be daunting. There are many models to choose from and a lot of features to consider.
With that in mind, below is a comprehensive guide to the six best elliptical machines to help you pick the perfect model according to your fitness goals and budget.
In this comprehensive buying guide, we evaluated the following machines:
Featured Eliptical Machines in this Review Guide
Elliptical Buying Guide
With so many models to choose from, how do you know which is the right one for you? Which features and functions are the most important? Which model offers the best value for money?
Before splurging on your new elliptical trainer, here are a few things you should consider.
Adequate Space
Elliptical machines come in different sizes.
There are heavy-duty fitness machines with a large footprint and loaded with features. And there are compact machines, ideal for apartments, small spaces, and for storing in the corner of the room when not in use.
You can even find some folding elliptical machines out there (though we didn't include any here) if you're extremely tight on space.
As a general rule of thumb, you'll need to allocate between 4 and 7 feet for your new machine, and keep in mind the footrests will extend beyond the mainframe when in motion.
If you're going to keep this in the basement or in an attic-type setup, you'll have to consider the available headroom.
Figure out how much space you want to allow for your new workout machine, and then consider the dimensions before you make your final purchase.
Elliptical Features
What are the most essential features for you? You might consider the following:
Noise level - Some machines are obviously more you're going than others, so it's a good idea to read reviews and make sure noise is not an issue for the model you're interested in. Too much noise can wake up your family if you're doing an early morning workout, and a noisy machine could even bother your neighbors if you live in an apartment building.
Stride length - A machine with an adjustable stride length will make this a non-issue. Alternatively, you can look for an elliptical machine with an average stride length of around 21 inches to ensure that people of different heights can ride it comfortably. A smaller stride length may make for an uncomfortable ride for a tall person and vice versa.
Incline - While some machines won't have this feature, it's an excellent addition as it can add a level of intensity to your workout. Some elliptical machines have an automatic option, while others offer inclines you can adjust manually.
Add-ons - How vital is a bottle holder? Do you want to be able to watch your iPad while working out? Is the fan important to you? What about the speakers? Take a good look at these additional features to see which ones you can and can't live without.
Workout Programs
If you're already pretty motivated, or you want to plug into your iPad and watch Game of Thrones while burning those calories, then preset workout programs may not matter.
If, however, you want the elliptical to create a challenging routine for you based on your fitness goals and performance statistics, or if you want to hop on and connect with a virtual trainer to push you through your workout, you'll want to assess the workout programs that come with the machine.
Fitness Equipment Budget
How much are you willing to spend? Think about how often you'll be using your machine, what kind of features are the most important for you, and how much space you have. These will all be significant factors influencing your final decision.
Some good elliptical machines on the market are relatively inexpensive, but remember, you get what you pay for. If you're ready to make a serious commitment to your home workout routine, some exceptional machines are waiting for you.
Are you ready to look at and evaluate the best elliptical machines? Let's get started!
Best Overall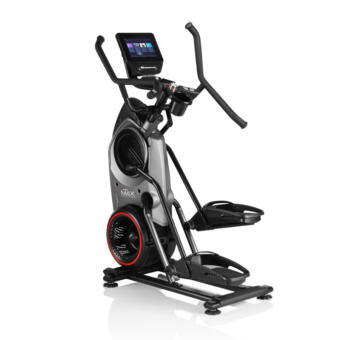 The M9 is total-body cardio in a compact design that fits your home. There are no limits to your speed, and the personalized workout and entertainment experience will keep you coming back to train.
Pros
Heart rate hand grips
HD touchscreen
Bluetooth® speakers
Oversized textured pedals
Cons
JRNY® membership required
The Bowflex M9 promises a challenging workout, even for people who are in excellent shape. This is the latest model and is based off the previous M8 Max Trainer.
It comes with 20 levels of computer-controlled resistance so that you can adapt the session to your needs. Most Bowflex fitness machines come with their built-in JRNY® experience -- membership required.
While the average elliptical trainer has moving handles so you can get an upper-body workout while on the machine, the Boxflex's armbars are more effective than those on traditional machines, and it also comes equipped with high-quality ergonomic grips.
What's more, this "smart" machine has performance-targeted programming, which means that it's able to learn and adapt to every user's fitness level and establish new personal best records.
Monitor your heart rate using Bluetooth wireless technology. Alternatively, you can use the contact grip system that comes built right into the handlebars.
For such a heavy-duty machine, the Bowflex Max Trainer is on the smaller side compared to other elliptical machines -- we absolutely love this elliptical machine. 
The high-contrast HD touchscreen display is easy to use and will keep you well informed about all your workout statistics. You can even stream your favorite shows from Netflix, Amazon Prime, Hulu, and more!
Other exciting features include Bluetooth compatibility, a select button to add extra time to your workout, stainless steel racing pedals, a water bottle holder, and a media rack.
It's also worth noting that Bowflex offers a 3-year warranty on the frame and parts, with 1-year on the electronics. 
Best Beginner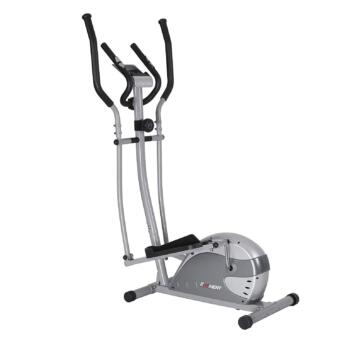 This fitness machine is the perfect entry-level elliptical. With assembly in about 20 minutes and easy portability, you'll be up and exercising in no time!
Pros
Pulse rate monitoring
Portable & compact
Easy to assemble
Cons
220 lbs. max weight
8 levels of resistance
For fitness fans looking to make a small investment of less than $200, this elliptical machine by Efitment is a great option for any home gym.
It's on the smaller side, with a stride length of just 11 inches, so it's perfect for people with limited space.
Even better, it can be moved around the house easily thanks to the transport wheels on the front of the unit. Pull it out into the middle of the living room for your workout, and then wheel it back to the corner for storage.
Track your session on the digital LCD monitor, which reports all of the typical metrics: speed, distance, calories, and pulse rate.
Use your phone or tablet with ease, thanks to the particular slot it has to support your device of choice.
This elliptical machine has a belt-driven flywheel so that you can expect a smooth ride. And it has eight levels of magnetic resistance, so you can easily step up your workout by simply turning the knob.
To monitor your heart rate, you can use the hand pulse sensors built right into the stationary bars.
The non-slip foot platforms are large and textured to ensure safe use, no matter how vigorous your workout session is for the day.
This machine also has leg stabilizers to make sure that the machine doesn't rock, tip, or sway on uneven surfaces.
As for the warranty, the company offers three years on the structural frame and 90 days for other parts and components.
Without a doubt, this is a great entry-level elliptical machine.
Best Intermediate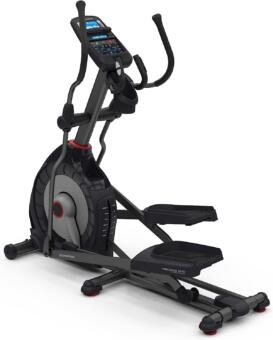 If you're in the market for an elliptical with top-of-the-line features that won't break the bank, this fitness machine is for you.
Pros
10° motorized adjustable ramp
Connect your favorite fitness tracking app
DualTrack blue backlit LCD
If you're a fan of the iconic brand's bicycles, then you're going to love their elliptical machine.
The Schwinn 470 has 29 workout programs in total to choose from, 12 of which are profile-based, 9 let you control your heart rate, 4 are custom, and 2 are fitness tests.
Follow the program of your choosing on the DualTrack blue backlit LCD system.
For the techies out there, you can transfer your workout data to a range of apps via Bluetooth, including RunSocial, MapMyRunRide, Apple Health, UA, MyFitnessPal, GoogleFit, and the Schwinn Trainer App.
A particularly exceptional feature is the Mixed Reality Training.
Using the Explore the World App, you can run with people all over the world, on 27 routes and in 19 locations, while you track both pace and distance. Given the proven benefits of working out with a crowd, this function is especially interesting.
This elliptical also uses a unique 20-inch "Precision Path" foot motion technology, simulating a natural running motion to ensure smooth movement on your joints.
Vary the level of intensity with 25 different levels of resistance, or take your workout up a notch by using the 10° motorized adjustable ramp to control the incline.
This elliptical machine will let you store four user profiles, and you can monitor more than a dozen feedback categories, including calories, distance, and time.
Other notable features include a USB port and a holder for your phone and iPad so you can charge them while you're working out, an adjustable fan, a bottle holder, and an MP3 input port.
As for the warranty, Schwinn offers 10 years on the frame, 2 years on mechanical parts, 1 year on electronics, and 3 months on labor.
This elliptical machine is a beast, and it deserves very high consideration!
Best Pro-Grade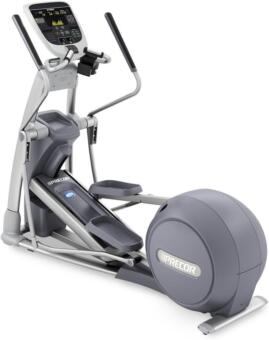 If you're looking for a no-nonsense commercial-quality elliptical, this fitness machine is for you.
Pros
20 resistance levels
Reversible pedal rotation
Heart-rate monitoring
Lifetime warranty (frame and welds)
Cons
Lacking smart connectivity features
Precor is synonymous with quality commercial gym equipment. This brand has been in the elliptical business for more than two decades -- you can rest assured you're taking home a quality product when you buy a Precor.
This fitness machine is in line with the quality you'd find at your local gym or health club, and it has a distinctive, patented design that makes sure you're in a posture-perfect position throughout your entire workout.
The Precor uses patented CrossRamp® technology. This technology lets you adjust the height of the path your foot travels.
Possible inclines on this machine are 13° through 40° -- using the ramp allows you to isolate or focus on a specific muscle group. This elliptical also offers "Stride Geometry," allowing you to focus on a specific muscle group or all major lower-body muscle groups.
You can assess your workout based on the high-contrast LCD screen, including heart rate, resistance, calories, and strides per minute.
If more than one person is using this elliptical, you can assign user IDs to return to your most recent workout.
You can also store your preferences and information, and be rest assured; this model offers the most accurate data about calories and heart rate.
There are 15 pre-programmed workouts, from gluteal and cross country to hill climb and weight loss. And all come with beginner, intermediate, and advanced options and 20 resistance levels.
This machine comes with plenty of guarantees, including a lifetime warranty on the frame, a 10-year warranty on the parts, and a 1-year warranty on labor.
Conclusion
Clearly, there are a lot of factors to consider when buying an elliptical trainer.
And, if you're torn between buying a treadmill and an elliptical, keep in mind that while there are many reasons to get a treadmill, the elliptical is an excellent investment for a full-body workout while providing less impact on your joints.
If you're looking to use it occasionally, you can most likely get by with the least expensive model.
However, if you're truly serious about getting in shape or staying in shape, it makes a lot of sense to purchase one of the higher-end options mentioned.
The high-end models are built-to-last and come with plenty of features to ensure comfortable, challenging, and engaging exercise workouts.
Whatever you decide to do, what's most important is that you stick with your workout routine and remain healthy.
All the many reasons outlined here, and so many more, are why you need to consider purchasing an elliptical for your fitness goals!