6 Best Weight Loss Supplements & Diet Pills Reviewed
Fitgenic is proudly reader-supported, and we may receive compensation through links you click on. See our affiliate disclosure to read more or inquire about partnerships.
Whether you're a hard-core athlete or looking to get into shape, these top-rated weight loss supplements are the best in the fitness industry.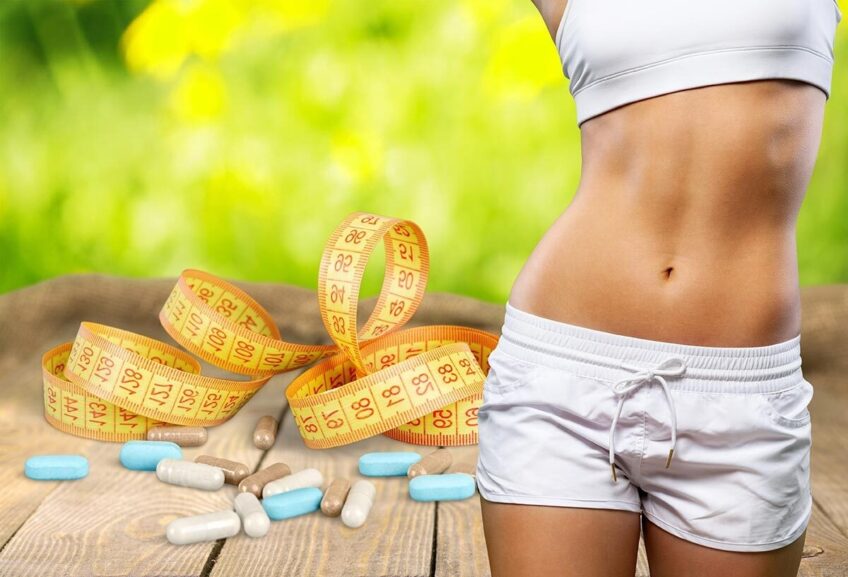 Are you on a mission to lose weight at a relatively higher pace than your efforts in the gym are providing? A balanced formula for weight loss not only involves regular physical activity but also includes a well-balanced diet.
Supplements will give you the edge you need. More specifically, weight loss pills can help stimulate the weight reduction process by biologically enhancing your metabolism rate and suppressing hunger cravings. Naturally, by lowering the calories you consume, you will start to lose weight.
Weight loss pills or diet suppressants should be used with care, especially if you have a medical condition such as high blood pressure or even diabetes or are pregnant. Definitely consult your physician before starting any new supplements, especially those that can affect your hormones.
Let's take a look at the most popular weight loss pills and supplements.
Categorized as the most popular weight loss supplement among professional female athletes, Leanbean has made a name within the health and fitness industry.
Featuring an all-natural formula, the Leanbean guarantees to burn stubborn fat using proven ingredients. Some of the top ingredients to help with weight loss and overall wellness are listed below.
Ingredients:
Glucomannan (Konjac Fibre)
Choline
Acai Berry
Green Coffee
Vitamin B6 & B12
Each of the ingredients included is not only 100% organic and natural but also works together for fat burning. The formula also aids in transforming blood sugar into sustainable energy.
Leanbean can maintain its prominent position in the health and fitness market by significantly reducing sugar cravings and carbohydrate intake. Leanbean further enhances fat reduction by stimulating your body's metabolism.
However, unlike other fat burners in the market, Leanbean won't have you running to the bathroom following each meal. It allows adequate energy and vitamins to be effectively absorbed into the body before expelling toxins.
Usage Directions: To attain optimal results, users are directed to take two capsules three times per day with a meal or snack. For optimum results, use 250ml of water.
Evlution's Trans4orm fat-burning supplement provides natural clean energy, supports metabolism, enhances mental focus, and reduces cravings.
The ideal choice for bodybuilders, Trans4orm's ingredients target fat burning, not muscle, using thermogenic ingredients to support fat loss while, with proper diet and exercise, preserving muscle mass.
Being FDA-approved and using strict GMP guidelines, this is a quality weight loss supplement with premium ingredients for fat burning.
Ingredients:
Green Tea Extract
L-Tyrosine
Natural Caffeine
Coleus Extract
Yohimbe Extract
Huperzia Serrata
Alpha-GPC
B-Vitamin Complex
Coleus Extract supplies the body with Forskolin, which is most effective at accelerating fat burning when combined with caffeine. At the same time, L-Tyrosine is a vital amino acid that supports metabolism and helps elevate your mood while reducing fatigue when cutting calories.
What makes the Trans4orm unique is the presence of Huperzia Serrata and Alpha-GPC incorporated in the fat-burning formula to help support and maintain mental activity and concentration. The enhanced mental capability allows users the endurance to carry out their physical training sessions much more efficiently.
Usage Directions: The recommended dosage for the Evlution Trans4orm supplement is to take one serving in the morning on an empty stomach and one serving 4-6 hours later in the afternoon. Do not exceed two servings in 24 hours.
Designed to be utilized by both men as well as women, the Burn-XT Thermogenic Fat Burner contains extensively researched fat-burning ingredients merged with cutting-edge thermogenic elements.
The formula used is specialized in not only burning off additional fat but also boosting energy levels. It does a great job suppressing appetite, leading to fewer food cravings while also fully preserving muscle mass. This product is made in the USA, has no fillers, and is GMP certified.
What makes Burn-XT Thermogenic Fat Burner an excellent choice for fitness enthusiasts is its keto-friendly formula. And, with roughly 8500 reviews on Amazon, it's a popular weight loss product. There are only five ingredients, which makes this product simple and effective.
Ingredients:
Acetyl L-Carnitine HCL
Green Tea Extract
Caffeine
Capsimax Cayenne Pepper Extract
Bioperine Black Pepper Fruit Extract
The acetyl L-Carnitine enhances cognitive brain abilities, whereas green tea extracts incorporated in the formula increase energy. Furthermore, the presence of caffeine sufficiently increases energy levels, amplifies cognitive abilities, and helps burn fat. Capsimax stimulates metabolism, while Bioperine ensures optimal absorption of all the ingredients.
Usage Directions: Consume two capsules one to two times per day before meals. Each dose should be separated by 4-6 hours. Avoid taking before bedtime, and do not exceed the recommended dosage.
Being a thermogenic hyper-metabolizer pill, this supplement helps suppress food cravings and significantly increases metabolism. The Rockstar brand offers natural and high-quality dietary supplements for trainers, pro athletes, and fitness lovers everywhere.
Ingredients:
Garcinia Cambogia
Raspberry Ketones
Conjugated Linoleic Acid (CLA)
African Mango
Green Coffee
Made in GMP Certified Labs in the USA, this product also has mood-enhancing ingredients such as 5-HTP and Rhodiola to increase overall well-being during workouts.
Usage Directions: The recommended dosage is one capsule before each meal. Do not exceed 1 capsule unless you've adequately assessed your tolerance.
Vintage Burn by Old School Labs is a great product, as seen by their many 5-star reviews. Not only is it a high-quality product, but they claim it's the only muscle-preserving fat burner.
Old School Vintage Burn is free from gluten, does not contain any GMO ingredients, and is 100% vegetarian-friendly.
Ingredients:
Green Tea Extract
Garcinia Cambogia
Raspberry Ketones
Bacopa Leaf Extract
Caffeine
Forskohlii Root Extract
Chrysin
While Vintage Burn is marketed for athletes and bodybuilders, all men and women looking to burn stubborn body fat can try this product. The product contains Bacopa leaf to enhance mood and a good amount of caffeine to help focus.
Chrysin is also added to help support a healthy testosterone level. Additional uses of chrysin include maintaining sexual health, antioxidant benefits, and supporting a healthy inflammation response. Chrysin can also help with anxiety and many other health benefits.
This fat-burning supplement might be one of the best, with zero artificial substances, synthetic additives, and preservatives.
Usage Directions: Take one capsule twice a day with meals for three days to assess tolerance. Continue with two capsules twice a day with meals. Avoid taking on an empty stomach or less than 4 hours before bedtime, and do not exceed the recommended dosage.
Our weight loss product review wouldn't be complete without a mention of MuscleTech's Hydroxycut. They were one of the first supplements in the weight loss category. If you've been around this industry as long as we have, you will remember their products used to contain ephedra, which has since been banned by the FDA in 2004.
Ingredients:
Coleus Forskohlii
C. Canephora Robusta
L-Theanine
Coleus Extract
Yohimbe Extract
Caffeine
Categorized as America's #1 seller, Hydroxycut is an extreme super thermogenic designed to help you reach your weight loss goals. Aside from thoroughly energizing your body, this supplement is an excellent source to help in metabolizing fat stores.
They offer their product link in pills, powders, and gummies for convenience. They also carry caffeine-free versions.
Usage Directions: Start with one capsule once daily. Take each serving 30 to 60 minutes before your two largest meals of the day. Do not exceed 4 capsules in a 24-hour period. Avoid usage within 5 hours of bedtime.
Conclusion
Although each of the six weight loss supplements mentioned above is excellent -- the one you choose depends on the weight loss or muscle gain you may be seeking. It's critical to mention it's also necessary to carry out a full fitness program while using weight loss supplements.
Having adequate physical activity, the recommended usage directions, and consuming sufficient calories is the perfect equation to lose weight effectively and maintain your desired body type.
Again, consult your doctor before taking weight loss supplements. Good luck with your weight loss goals!