4 Reviewed Adjustable Dumbbells for Convenience and Increased Strength
Fitgenic is proudly reader-supported, and we may receive compensation through links you click on. See our affiliate disclosure to read more or inquire about partnerships.
When purchasing adjustable dumbbells, you have lots of options. Ultimately, it comes down to your budget, must-have features, and fitness goals.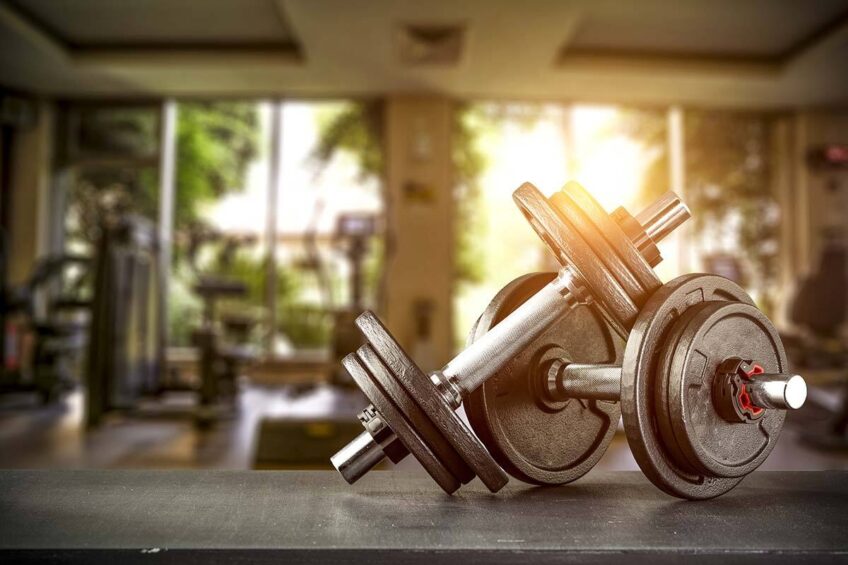 As the world grows at an unprecedented pace, convenience drives need. We can buy anything from the comfort of our homes, and the health and fitness industry is no exception.
With more and more people taking advantage of that convenience, the days of going to the gym are no longer essential.
We all know that working out has benefits, and studies from Harvard Medical School have even demonstrated that working out regularly has been proven to improve memory, thinking skills, and the body's health to a great extent.
However, many people still seem confused about the right and wrong way to work out. And, with the rise of social media fitness "experts," how do you know who to listen to?
Fortunately, one piece of exercise equipment is always a staple -- dumbbells. Better yet, adjustable dumbbells.
In this complete buying guide, we're going to evaluate the following adjustable weights:
Featured Adjustable Dumbbell in this Review Guide
How to Choose the Best Adjustable Dumbbell
There are many adjustable dumbbells on the market to choose from, depending on your wants and budget. With a growing demand for top-notch adjustable dumbbells, companies with quality equipment have exploded in the fitness market.
We chose the best adjustable dumbbells primarily based on brand name, quality of reviews, and availability online. We then tighten down the list based on features, durability, overall value, and pricing.
With the help of this comparison guide, we hope to make the buying decision easier for you.
These top-notch dumbbells listed below will provide you with remarkable advantages to increase your health and strength. Dumbbells will work their magic in other areas of your body, such as physical competency, weight loss, balance, and stamina.
Choosing the right set of adjustable dumbbells is the key to achieving your fitness goals. Once you are comfortable with the dumbbells and incorporate an exercise program, you will start noticing positive effects on your physical appearance and overall well-being.
This buying guide will break down the different options to choose from to give you the best dumbbells for your home or office.
Let's get started!
Best Overall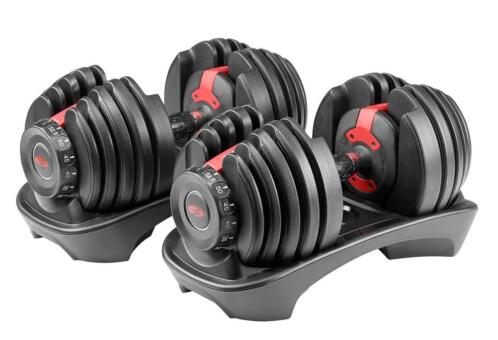 You would be hard-pressed to find a better set of adjustable dumbbells for the price and quality.
Pros
Combines 15 weight sets into one
Trainer-led sessions with JRNY® app
Easy to hold
Beautiful and sleek design
Cons
The plates can wobble slightly
Adjusting weights tight at first
Same wide footprint at any weight
Bowflex has been around since 1986, and this brand is highly-known in the fitness industry.
With over 7,000 reviews (at the time of this writing), these dumbbells rise to the top of the list. Having a 4.8/5 star rating is quite impressive. Besides their reviews, these dumbbells have been considered the "best for short and quick workouts" and an "Excellent alternative for P90X and saving space."
The Bowflex SelectTech 552 Adjustable Dumbbells allow you to change weight with the turn of a dial. You can change the resistance from 5 lbs. to 52.5 lbs. of weight in no time flat. These adjustable dumbbells can potentially change any setting into a productive and more efficient place to train.
These dumbbells are a high-quality choice for everyday use. We also like that the metal plates are covered with durable molding to help soften any noise.
What else does the Bowflex SelectTech 552 provide?
Two durable and sleek adjustable dumbbells appear right in front of you as soon as you open the box. All they require of you is to turn the dial to adjust the weight resistance. That user-friendly and super-easy adjustment allows users to maximize their strength training and advance their workouts.
These adjustable dumbbells have the potential to change any setting into a productive and more efficient place to train. They have an aesthetic, sleek, and eye-catching look, making working on your arms, chest, back, abs, legs, and shoulders a walk in the park.
Weight increments: 5 lbs. to 52.5 lbs. with 2.5-lb. increments
Dimensions: 15.8 x 7.9 x 9.1 in.
Total Weight: 118 lbs.
Warranty: Two-year warranty on weight plates and parts
Best Ergonomic Design
Their innovative design was developed with one thing in mind: results. Engineered to feel good in your hand, adjust easily, and endure the toughest workouts.
Pros
Made in the USA
Combines 16 weight sets into one
Padded handle
Add-ons available for increase to 70 or 90 lbs.
Cons
Takes some users longer to adjust the weight
The weight can be a little clumsy at first
This incredible pair of adjustable dumbbells got its name because of its square design, and its unique design differentiates them from all the other models available in the industry.
Based on over 1,500 reviews (during this writing) and the vast majority of reviews give this product a 5/5 star rating. The PowerBlock Elite Dumbbells have been described as "Versatile and compact," "Amazingly designed and easily adjustable," and "Well worthy."
This set by PowerBlock Elite Dumbbells goes from 5 lbs to 50 lbs. Several expansion kits are also available if you want to add weight -- up to 70 lbs. or 90 lbs. per hand. To adjust the weight, you'll move the pin. There is also an option to purchase a stand.
Their flat design provides the extra perk of placing them down and makes it extremely easy to adjust the weight. This pair is coated with rubber, which makes them and their handles more comfortable to use and get a firm grip.
We like that these dumbbells have a padded handle and offer the option to add more weight. An added bonus: This PowerBlock Elite set is made in the U.S. and provides a great warranty.
Weight increments: 5 lbs. to 50 lbs. with 2.5-lb. increments
Dimensions: 12 x 6.5 x 6 in.
Total Weight: 50 lbs.
Warranty: 5-year warranty
Best Price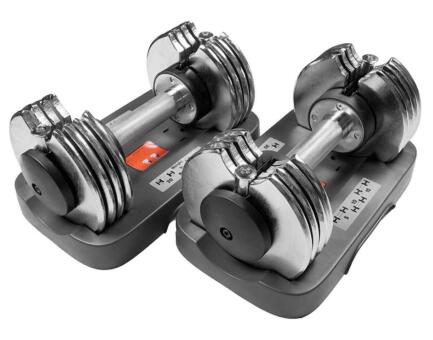 We love these small adjustable dumbbells. They're highly affordable, sleek, and backed by a 20+ year fitness company.
Pros
Easy to adjust
Less bulky than other weights
Compact and easy to use design
Cons
25 lbs. max weight
Larger gaps between weight increments
These dumbbells are designed for those who are ready to sculpt, strengthen, and increase their strength without much hassle. The chrome-plated look is clean, and you will love their innovative swift-slide system.
The Bayou Fitness Adjustable Dumbbells are a 25-lb. set, and they come with a storage tray. They're constructed with sleek-looking chrome-plated steel, ranging from 5 lbs. to 25 lbs. Bayou Fitness also offers a 50 lb. pair.
Overall, users are happy with reviews such as "The Best Adjustable dumbbells," "Great quality," and "I have been looking for this."
This set is no match for the rest in terms of ease of use and performance. You can strengthen your muscles with numerous exercises using this pair of adjustable dumbbells. Their only drawback might be their size for those having small sizes or hands.
We like that these dumbbells are easy to use and relatively affordable.
Weight increments: 5 lbs. to 25 lbs. with 5-lb. increments
Dimensions: 18 x 15 x 10 in.
Total Weight: 24.2 lbs.
Warranty: One-year warranty
Most Versatile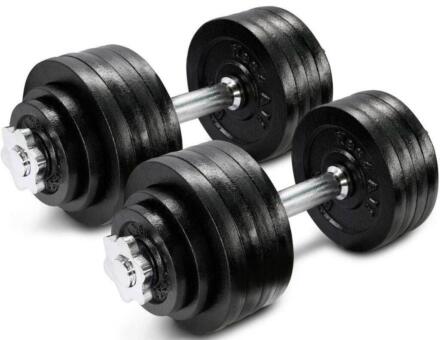 This basic option is excellent if you're looking for a classic adjustable dumbbell set.
Pros
Most basic option
Comfortable grips
Adjusting the weight is easy
Cons
Paint may chip and peel
Takes more time to adjust between sets
Last but not least, Yes4all adjustable dumbbells are one of the most versatile dumbbells on the market. This carefully crafted dumbbell set allows you to perform exercises and optimize your fitness routine with many purchase options.
For the weightlifter on a budget, there are Yes4All Adjustable Dumbbells. The total weight options for this set start with a 40 lb. pair and go all the way up to a 200 lb. pair. You can also purchase a single-locking dumbbell, perfect for a bedroom or dorm room.
With over 2,000 reviews (during this writing), this brand has out-shined many other adjustable dumbbell sets available in the market. It's one of the most affordable collections yet exclusively designed for strength training and quality workouts.
The 100% cast iron dumbbells use star-lock collars to keep the weights from spinning.
We love the solid plates and construction. People love this dumbbell for its fantastic durability.
Weight increments: 5 lbs. to 52.5 lbs. with 2.5-lb. increments
Dimensions: 15 x 12.5 x 4 in.; 52.5 lbs.
Total Weight: Depends on the selected option
Warranty: One year
Frequently Asked Questions
Adjustable Dumbbells
A dumbbell is a popular type of free weight- a piece of workout equipment not connected to anything else you can move freely. Dumbbells are made up of two equal masses, one on either side and connected by a handle or grips in the middle. They're usually made of cast iron or rubber and can be used individually or as a set of two when working out.
A "traditional" dumbbell is known as a fixed-weight dumbbell, where the weight cannot be changed. You can find this type in gyms and other fitness clubs around the country; typically, they're in a stack and available in various weights, from lighter (think, a couple of pounds) to the 100-lb. range.
Dumbbells are a staple for any gym, whether commercial or home gym.

They're a standard in gyms and fitness spaces across the country. Dumbbells are popular for many reasons: they're beginner-friendly, readily available, and generally inexpensive.
As far as equipment goes, they provide a low bar of entry to working out.
Depending on how much weight you use and hard you go, dumbbell exercises can help you lose weight, improve your cardiovascular fitness, and enhance your endurance.
Muscle & Fitness shared 11 of their favorite dumbbell exercises, focusing on one for each major body part. If you're a newer weightlifter in need of more instruction, Men's Health highlighted 10 dumbbell exercises and included moving graphics so you can follow along.
Moreover, studies have also demonstrated countless benefits for both men and women. Science has also shown that more than 20% of the women using dumbbells and other strength training workouts increased their physical appearance with the help of toned muscles, enabling them to look younger and smarter, defying their age.
According to the studies issued by the CDC and other health institutions, they have confirmed that strength training is NOT only meant for bodybuilders. It is vital for everyone. Strength training is crucial in enabling you to live a healthier and longer life.
Not only does strength training optimize your body, but it also increases your immune system while maintaining the energy levels your body requires. With the help of strength training exercises, you can control yourself mentally, physically, and emotionally much better. It even acts as an anti-depressant.
You've committed to lifting weights! But now you're wondering -- should I purchase a set of my own? Here are several reasons to consider it:
You don't want to pay for an expensive gym membership
You're just getting started and don't want to spend a lot of money
You like to work out in the privacy of your own home
You're looking to invest in equipment that won't take up a lot of space
You want to buy something that can work out more than one area of your body
You're looking for flexibility in where you exercise -- whether it's a fitness club or at home
If you've nodded along to more than one point on this list, dumbbells are a low-cost and low-risk option. You don't have to drop thousands of dollars or lose a weekend building a complex workout system to get started.
If you're looking to gain lean muscle mass in specific areas, then maybe. You can work out a variety of muscles -- your arms, shoulders, calves, and more -- using dumbbells, depending on the exercises you choose to do.
With that said, dumbbells are not a one-size-fits-all solution to a full-body workout. If you're looking to incorporate heavier weight lifting or cardio, you'll want to hold on to your gym membership to access other equipment. Dumbbells are a solid, readily available option to work out at home -- no back-breaking assembly required.
There are a few options for choosing the right dumbbells for you. In this complete buying guide, we will focus on adjustable dumbbells.
As the name suggests, adjustable dumbbells can be altered to match your needs or workout. They may have removable weight plates on either side or a stackable pin that you can move to change the weight.
Adjustable dumbbells are great for two main reasons:
They can offer you variety in your workout without relying on multiple dumbbells
They can save you a lot of room (clutter-free workout space, FTW)
Bonus: Today's models are generally less clunky and noisy and easier to use than adjustable dumbbells of the past.
Conclusion
When purchasing adjustable dumbbells, you have lots of options. Ultimately, it comes down to your budget, must-have features, and fitness goals.
If you're a beginner with no brand affinity, you may want to stick with a more affordable option. And if you decide on a well-known brand, you may also want to check them out in person -- try a specialty or sporting goods store where you can get a feel for them (test those grips!) -- before making your decision.
If you've been working out for a while and have a clearer idea of what you're looking for, go with the set that best meets your needs.
Good luck with your purchase!